Kid Cudi and Eminem Team Up on 'The Adventures of Moon Man & Slim Shady'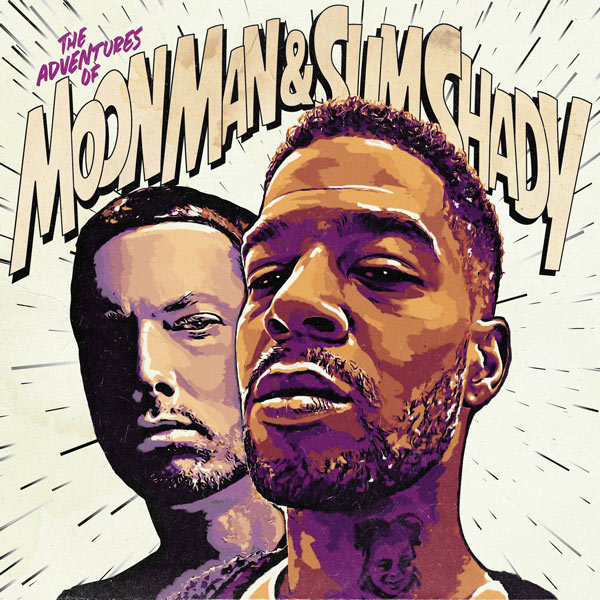 Shady's back with some help from Kid Cudi.
Mr. Rager teams up with the Rap God on their first-ever collaboration "The Adventures of Moon Man & Slim Shady." The Dot Da Genius-produced track finds Cudder bringing the rage while Shady shouts out Lil Wayne ("Got a little green, but I don't do weed / Purp nor lean, that's Tunechi / That's New Orleans") and disses Drew Brees following his comments about disrespecting the flag ("F**k Drew Brees").
Em also addresses his place in hip-hop ("King of Rap? / Nah, their words, not mine / King of swear words and not lying") and the pandemic ("Don't wanna wear a mask and they're just scoffin' / And that's how you end up catchin' the shit off 'em / I just used the same basket as you shoppin' / Now I'm in a fu**in' casket from you coughing").
Plus, he speaks on the innocent Black lives lost to police brutality: "Prayers to George Floyd and Ahmaud Arbery / How the f**k is it that so many cops are dirty? / Stop man please officer I'm sorry / But I can't breathe when I got you on top of me / Your goddamn knee's in my carotid artery."
@Eminem rap God. Help!

— The Chosen One (@KidCudi) May 7, 2020
The song came together after Cudi put out the call on social media in May. "@Eminem rap God. Help!" he tweeted. Em said he was unaware that Cudi was trying to reach him when he spoke to Lil Wayne on Young Money Radio, but they eventually connected.
Cudi previously linked with Travis Scott on "The Scotts," which debuted at No. 1 on the Billboard Hot 100. Prior to that, he released "Leader of the Delinquents," his first solo release since 2016's Passion, Pain & Demon Slayin'.
He is now readying his seventh studio album, Entergalactic, inspired by his upcoming adult animated music series for Netflix. Additionally, he is set to appear in this summer's Bill & Ted Face the Music and HBO's coming-of-age series "We Are Who We Are," which debuts in September.