Kid Cudi Returns with New Album 'Man on the Moon III: The Chosen'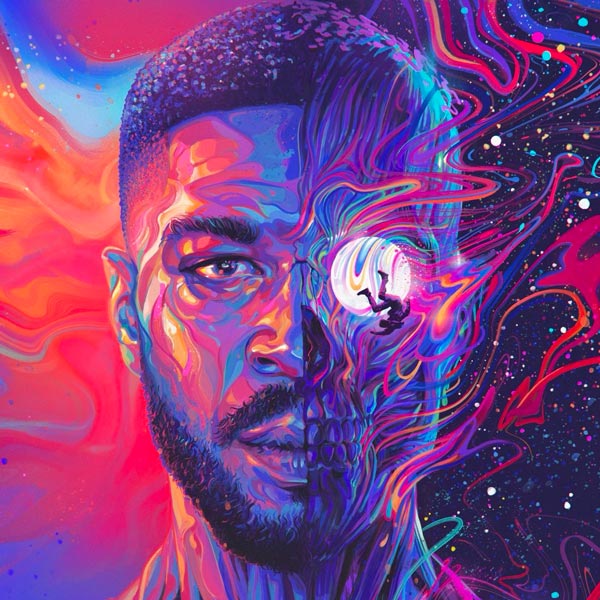 The trilogy continues.
Over a decade since his debut dropped, Kid Cudi returns with Man on the Moon III: The Chosen, the third and final installment in his legendary series. Divided into four acts, the 18-track set features appearances from Pop Smoke and Skepta ("Show Out"), Phoebe Bridgers ("Lovin' Me"), and Trippie Redd ("Rockstar Knights"), with production from Dot Da Genius, Take a Day Trip, and his original MOTM collaborators: Plain Pat, Emile Haynie, and Mike Dean.
Speaking with Apple Music, Cudi revealed that the album came together while he was working on his animated music series "Entergalactic" and his joint project with Travis Scott.
"I was already in a really good place working on 'Entergalactic,' going crazy on The Scotts sh*t, had that in the chamber," he told Zane Lowe. "But then I was making something else that didn't fit those two projects. And I think after two or three songs, I was like, 'Whoa, this sh*t really feels like a Man on the Moon. Like this is what the universe is telling me to make here.'"
He also showcases his evolution as a lyricist. "I felt like in hip-hop, I'm slept on as a rapper. You know, as a lyricist," added Cudi. "And I really wanted to elevate my whole sh*t on that front, on this project. And I did that with the rapping and the singing. Everything has kind of evolved."
The Man on the Moon trilogy started with Cudi's 2009 debut Man on the Moon: The End of Day and was followed by Man on the Moon II: The Legend of Mr. Rager a year later.
Cudi now hopes to tour with this album. "This album was made with touring in mind," he said. "I really plan on hitting the ground running when we can get back out there. Because it's been a long time since I've been on a big tour and I want to blow this up."
Stream Man on the Moon III: The Chosen below.