Lizzo Returns with New Single 'Rumors' Featuring Cardi B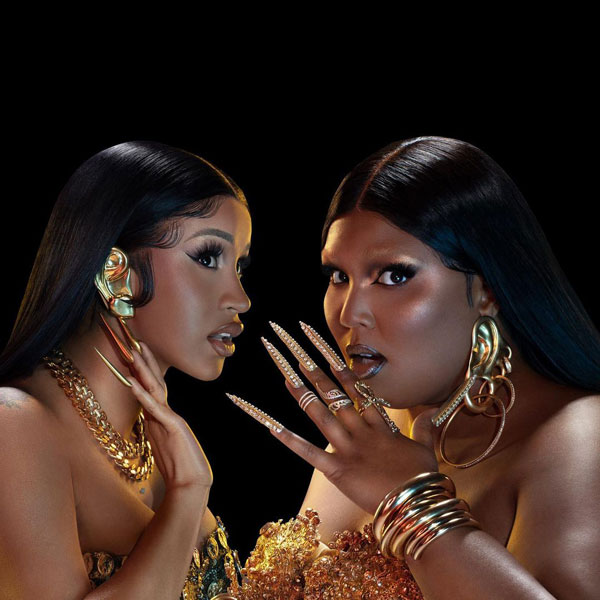 All the "Rumors" are true.
After much teasing on social media, Lizzo teams up with Cardi B on her first single in over two years. On the empowering bop, which Lizzo wrote in February, the hip-hop queens confront the many rumors surrounding their lives including one involving Drake.
"No, I ain't fu**ed Drake yet," raps Lizzo before Cardi addresses her own set of rumors. "All the rumors are true, yeah / Fake ass, fake boobs, yeah … Cardi ain't poppin' / No, that's a machine / Nobody listenin', they buying them streams."
In the epic video, directed by Tanu Muiño ("Up," "Wild Side"), the Atlantic Records labelmates transform into Greek goddesses. A pregnant Cardi shows off her baby bump in a golden two-piece while Lizzo stuns in a gold toga, dancing atop Greek columns.
Speaking with Apple Music, Lizzo opened up about the Cardi collaboration. "There was no one else for it. There was literally no one else," she said. "From the day the ink dried on her Atlantic contract, I said, 'Please get me on a song with Cardi B.' She's just funny. I like funny people and she can rap."
Added Cardi, "It's such a fun vibe. I feel like this is what we needed. We need good vibes that make you wanna jam at the weddings, make you wanna jam at the barbecue."
"Rumors" marks the beginning of a new era for Lizzo and is the first offering from her upcoming album, the follow-up to 2019's Cuz I Love You. She has been in the studio with producers including Mark Ronson.