Machine Gun Kelly Blames Eminem Beef for Poor Album Performance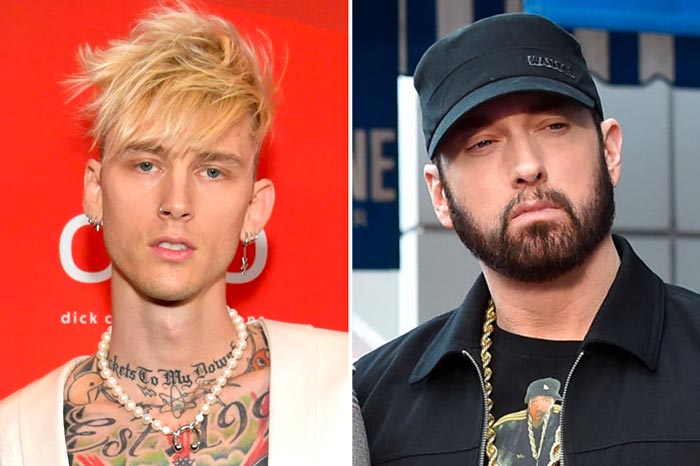 Machine Gun Kelly's beef with Eminem was not good for business.
Speaking with Interview magazine, the Cleveland rapper reflected on his infamous feud with the "Rap God" and how it derailed the success of his fourth album, Hotel Diablo. The project was a commercial disappointment, debuting at No. 5 on the Billboard 200 with first-week sales of 39,000 equivalent album units.
But MGK remains proud of Hotel Diablo, even though it didn't get much shine. "As a hip-hop album, it's flawless front to back, and also a hint at the evolution of how I went into a pop-punk album," he said. "But it was coming off the tail-end of that infamous beef [with Eminem]. So no one wanted to give it the time of day."
He blames the project's lackluster performance on his beef with Slim Shady. "It's like if you make a shitty movie and then you come out with a great movie right after, but people want to focus on the fact that they hated whatever you just did," he said. "What I did in the beef was exactly what it should be, but that project wasn't welcomed. The next album came from already feeling like I'd counted out, so I didn't even care what the public was going to think."
MGK's most recent album Tickets to My Downfall fared much better, debuting atop the Billboard 200 with 126,000 equivalent units. "That's why the project was ironically my best received one, because it was the most effortless, with the least outside influence," he explained.
The rappers' feud reached a boiling point when Em dropped his Kamikaze track "Not Alike" in 2018, prompting Kelly to fire back with his "Rap Devil" diss. After going back and forth, things seemed to settle down. However, earlier this year, MGK released "Bullets with Names" on which he boasted about killing a "G.O.A.T."