Megan Fox Recalls Drinking Ayahuasca with Machine Gun Kelly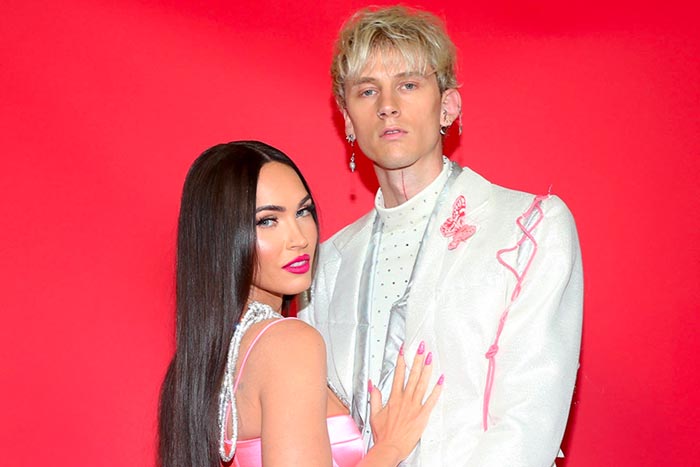 Megan Fox is opening up about a strange experience she shared with boyfriend Machine Gun Kelly.
The actress revealed on "Jimmy Kimmel Live!" on Monday that the couple traveled to Costa Rica to drink the hallucinogenic tea ayahuasca in "a proper setting, with indigenous people."
While she thought it would be a "five-star experience," it was less than glamorous. "You get there and you really are in the middle of the jungle, and you don't get to eat after like 1 p.m.," Fox told guest host Arsenio Hall. "You have to walk a very far distance to get your water, you can't shower because they're in a drought. Nothing glamorous about it, it's all a part of making you vulnerable, so you sort of surrender to the experience."
There were joined by 20 strangers for the ceremony, which began with a process called vomitivo during which they emptied the contents of their stomach by drinking lemongrass tea.
"And you have to vomit a certain amount before they let you get back with everybody, so you're like cheering on everyone as they throw up," said the Transformers star, who called it "such a good bonding experience."
The "incredibly intense" process lasted for three nights. On the second night, Fox said she "went to hell for eternity" in a hallucination.
"Just knowing eternity is torture in itself because there's no beginning, middle or end. So you have a real ego death," she said. "It just goes straight into your soul and it takes you to this psychological prison that you hold yourself in. It's your own version of hell and I was definitely there."
During the interview, Fox also opened up about how her fashion has evolved since meeting MGK, whom she calls Colson. "He's such a flamboyant dresser that I can't really pull off the sweatpants and the yoga gear anymore. I have to elevate myself to his level," she said. "So we do coordinate often."
The couple met on set of the indie thriller Midnight in the Switchgrass in March 2020 after Fox had separated from husband Brian Austin Green. "I knew right away that he was what I call a twin flame," she previously said of the "Bloody Valentine" singer.