Megan Thee Stallion Seemingly Claps Back at Kodak Black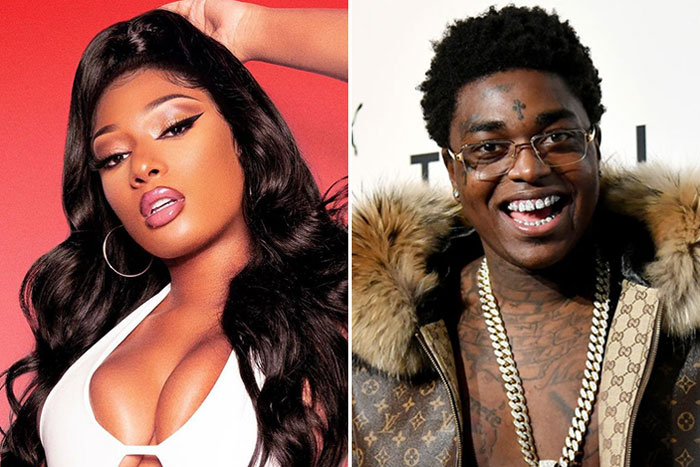 Megan Thee Stallion wants to be left out of the conversation.
After Kodak Black tried to take credit for her success, the Grammy-winning rapper has seemingly responded. While she didn't mention him by name, Megan appeared to address the controversy by telling Kodak to keep her name out of his mouth.
"Don't mention me if you not a hottie thanks," the Hot Girl tweeted on Tuesday.
Don't mention me if you not a hottie thanks

— TINA SNOW (@theestallion) March 17, 2021
The day before, Kodak insinuated that he was the originator of Megan's "drive the boat" catchphrase and that he deserved credit for her career.
"Make a whole career off of taking one Lil piece of my shit & I B Coming For My Money," he wrote in a since-deleted tweet. "Baby ain't have to go out her way to give my credit but the opportunity came to her instead when they asked that question on tv smh and they be on some Black Lives Matter shit y'all don't even be fa this shit fr."
Fresh off her three Grammy wins, Megan's boyfriend Pardison Fontaine also had a message for the critics. "BIG Ws !!!! .. REALLY AINT HEARING ALL THE OTHER SHIT," he wrote.
In a separate tweet, Megan seemed to speak on the outrage from conservatives over her steamy "WAP" performance with Cardi B at the Grammys. Cardi fired back at right-wing activist Candace Owens in a series of tweets, while Megan said that people can simply tune out if they're offended.
"Before I go… y'all be acting like people force y'all to look at shit you don't like.. if you like puppies follow puppy pages , if you like food follow food pages, if you like bad bitches follow me Woman tipping hand SIMPLE K BYE," she tweeted.
Before I go… y'all be acting like people force y'all to look at shit you don't like.. if you like puppies follow puppy pages , if you like food follow food pages, if you like bad bitches follow me 💁🏽‍♀️ SIMPLE K BYE

— TINA SNOW (@theestallion) March 17, 2021
And black women should be more like you? 🤨After all the fighting for equality and freedom they should be submissive to a white a man after years of abuse & rape making them a sandwich while pregnant cause in your words " that's what a woman should do"? Interesting https://t.co/4BxuhbA3iw pic.twitter.com/ZiAoV8p4Oz

— iamcardib (@iamcardib) March 16, 2021