Megan Thee Stallion Slams Tory Lanez on 'Shots Fired' Diss Track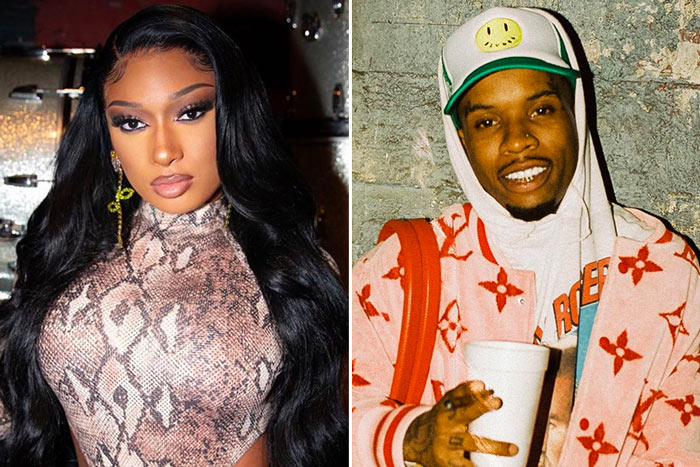 Megan Thee Stallion released her highly-anticipated debut album Good News on Friday.
The 17-track set kicks off with the explosive "Shots Fired," on which the "Savage" rapper takes aim at Tory Lanez following the shooting in the Hollywood Hills on July 12 that left her wounded. While she doesn't call him out by name, the diss track is clearly a scathing response to the Canadian rapper.
Over a sample of The Notorious B.I.G.'s "Who Shot Ya," the Hot Girl comes out the gate swinging. "Imagine ni**as lyin' about shootin' a real bitch," she raps. "Just to save face for rapper ni**as you chill with / Imagine me givin' a f**k it was your fu**in' birthday / You in your feelings, I just thought it was another Thursday."
She continues, "Now imagine me cockblocking ni**as, on some dry sh*t / I don't want you on a bitch, believe you wouldn't have been invited / And if it weren't for me, same week, you would have been indicted."
She makes reference to her former friend Kelsey, who was in the car at the time of the shooting ("Now y'all in cahoots") before taking more shots at the 5'7″ rapper. "You a puss in boots / You shot a 5'10" bitch with a .22 / Talkin' 'bout bones and tendons like them bullets weren't pellets / A pussy ni**a with a pussy gun in his feelings."
Later on the three-minute track, Meg details the night Tory allegedly shot her following a dispute in their SUV. "OK, he in the backseat and he keep callin' me a bitch / We all know the sh*t I coulda came back with."
She blasts Tory's supporters ("Any ni**a on that ni**a's side is a clout chaser") and addresses the injustices suffered by Black women. "Now here we are, 2020 / Eight months later / And we still ain't got no fu** kin' justice for Breonna Taylor."
Megan also denies snitching on Tory ("Who a snitch? I ain't never went to the police with no names"), but she may be having second thoughts. "Next ni**a send a shot, I'ma send it right back … Shoulda let them lock your ass up," she concludes.
She doesn't appear to address Tory again on the album, which features appearances from Beyoncé, SZA, Big Sean, 2 Chainz, Young Thug, and more.
Tory has denied Megan's accusations and proclaimed his innocence on social media and throughout his album DAYSTAR, which was released in September. Lanez, who was charged with assault in connection with the incident, pleaded not guilty earlier this week.