Megan Thee Stallion's Former Friend Fires Back with Diss Track 'Bussin Back'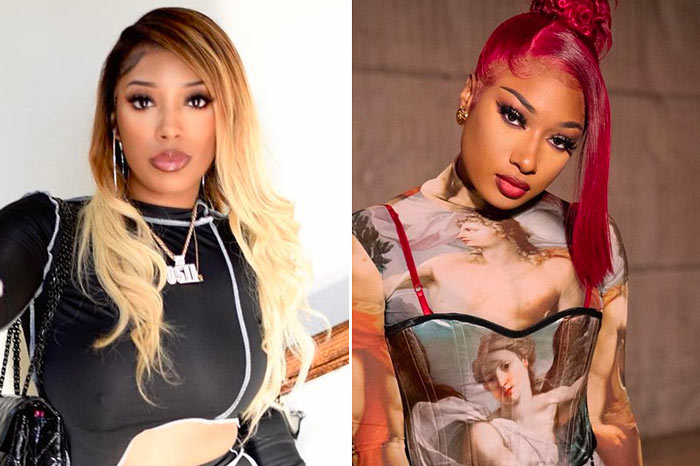 Megan Thee Stallion's former friend is breaking her silence.
Following the release of "Shots Fired," on which Megan accused her ex-BFF Kelsey Nicole of being in "cahoots" with Tory Lanez, Kelsey is firing back on a track of her own. On Wednesday night (Nov. 25), she dropped her surprise diss "Bussin Back."
Over the instrumental for Tupac's Biggie diss "Hit 'Em Up," Kelsey calls out the "Savage" rapper. "Couldn't control your little feelings / Look what dick is costing you / It was all good, yeah, about a week ago / Shout out Bobby Shmurda, but this bitch is really tweaking, bro," she raps.
She denies reports that she was the one who shot Megan following a dispute in July. Kelsey was in the car at the time of the shooting. "If I was the one with the gun, you would've heard about a murder / Said her back was turned but that girl know who really hurt her / Never been a jealous friend and the people really know it."
Later, she addresses accusations that Tory paid her to keep quiet about the shooting. "Imagine lying to the D.A. saying I took some hush money," adds Kelsey. "Where I get this money from? / Bitch, you knew I was a hustler."
View this post on Instagram
She goes on to question Megan's "Protect Black Women" mantra ("But you still a threat to me") and accuses the Houston rapper of lying to her label ("Do they really know what happened?"), adding, "All you had to do was clear your best friend's name."
On her diss "Shots Fired," off her debut album Good News, Megan put Kelsey on blast: "You offered Ms not to talk, I guess that made my friend excited / Now y'all in cahoots, you a puss in boots."
After the song's release, Megan seemingly responded to Kelsey, tweeting a series of crying laughing emojis.
😂😂😂😂

— HOT GIRL MEG (@theestallion) November 26, 2020