Migos Readies 'Culture III' for Spring Release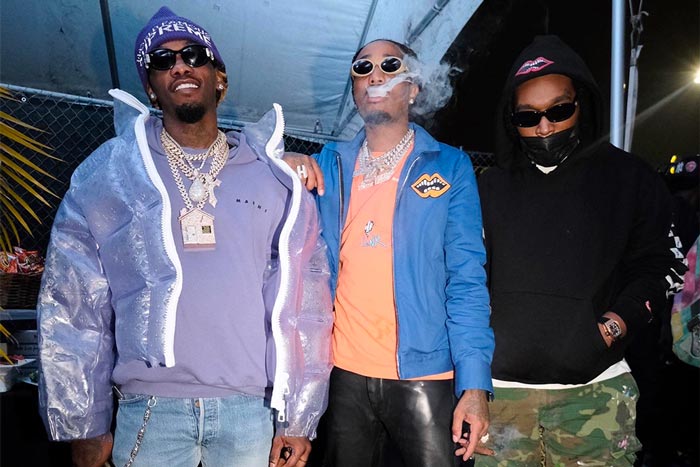 Culture III is on the way.
The long-awaited third installment in Migos' Culture series is coming sooner than expected. During an interview with TMZ on Sunday (Feb. 14), Quavo announced that the project is set to drop within the next 45 days.
"It's coming real soon, less than a month-and-a-half," he said. That timeframe would put the album on track for release by the end of March.
Source : pic.twitter.com/zD7ak7vLbW

— WRLD (@wrld_mag) February 15, 2021
The group recently celebrated the fourth anniversary of the original Culture and third anniversary of the sequel, Culture II. They also shared behind-the-scenes footage from the recording sessions for Culture III that took place over the past year.
"Quarantine been a pro and a con," said Quavo. "It's time for us to crack down and bond and know about our business and it's time to get everything squared away, no bad feelings, no hard feelings nowhere. We're just young men and just tryna grow. Right now, we're at a point in our life where we're allowed to sit down and get that so we can build and start from scratch all over again while we're moving."
The Process Of 3

Take Em Back To The Day To Day @migos Lifestyle
Take This Journey With Us!
The Album Is Coming. pic.twitter.com/5g65La7WqC

— QuavoYRN (@QuavoStuntin) January 27, 2021
The clip also featured a whiteboard displaying potential tracks that could appear on Culture III, including "Rolling Stones," "Cypher," "New Money," and "Birthday."
Culture III has been a long time coming. "The vibe on the album is more of Culture, and that's all I should really share," Quavo told GQ in July. "We feel good. We feel new and refreshed."
Last year, Migos dropped a series of singles including "Need It" with YoungBoy Never Broke Again, "Racks 2 Skinny," and "Give No Fxk" featuring Young Thug and Travis Scott.