Morgan Wallen Eyes Kendrick Lamar Collaboration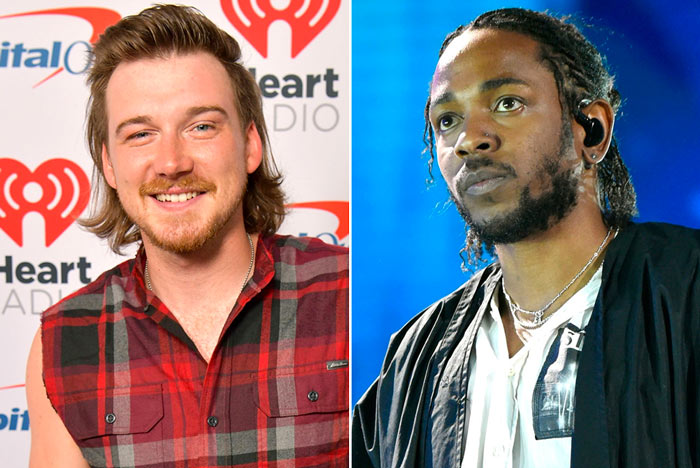 Fresh off his Lil Durk collaboration, Morgan Wallen is eyeing a collaboration with Kendrick Lamar.
During a Clubhouse chat with Druski, the embattled country crooner revealed that he primarily listens to hip-hop and Moneybagg Yo is among his favorite artists.
"I do love Moneybagg… He's definitely at the top of the list," Wallen said, according to Variety. "Honestly, my top stuff on Spotify was all hip-hop. … Moneybagg is probably my favorite. And I listened to a lot of Young Dolph — RIP. I listened to Drake's new album. I listen to Kanye. … I've been listening to a little bit of Gunna. I like him pretty good."
But when asked who he would like to collaborate with most, he set his sights on King Kendrick. "But like overall, ever… I'm trying to think of not just in the past little bit… Kendrick Lamar would be pretty cool," he added.
A Kendrick collab might be a longshot as the Compton rapper once famously shut down a white fan for singing the N-word on stage during an Alabama music festival.
While his N-word controversy was not brought up during Clubhouse, Wallen was asked how his country/hip-hop crossover record with Durk, "Broadway Girls," came together.
"Durk commented on my Instagram…. So I hit him up," he said. "Me and him had been talking a little bit throughout the year and kind of developed a friendship."
Wallen posted a snippet of the song on Instagram and it caught Durk's attention. "I was like, 'I don't know if you're serious [about collaborating] or not, but here's a couple of versions.' And he took the song… I said, 'I'm not gonna put out an album for a while. If you just want to throw this on yours, go ahead.' So he did and I'm super pumped about it."
"Broadway Girls" is off to a strong start, debuting at No. 1 on the Billboard Hot R&B/Hip-Hop Songs chart. It comes less than a year after a video surfaced of Wallen using the N-word after a drunken night out with friends. Amid the controversy, he was suspended by his record label and radio stations stopped playing his music, but his album Dangerous: The Double Album still remained the best-selling album of 2021.