New Summer Single 'All Night' by Strategy KI, Sean Kingston & Curtisay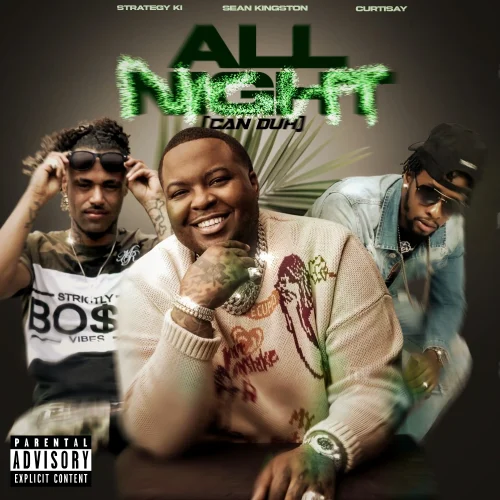 "All Night (Can Duh)" is a captivating collaboration that effortlessly combines the unique talents of Strategy KI, Jumble Beats, Sean Kingsean, and Curtisay. This refreshing track showcases a fusion of contemporary hip-hop and infectious pop elements, resulting in a truly addictive listening experience.
From the very beginning, the song's catchy beat grabs your attention, setting the stage for the dynamic performances that follow. Strategy KI and Jumble Beats display their impeccable production skills, crafting a vibrant and energetic backdrop that perfectly complements the vocal prowess of Sean Kingsean and Curtisay.
Sean Kingsean's Grammy-nominated artistry shines through his smooth delivery and charismatic presence, infusing the track with a sense of infectious enthusiasm. His chemistry with Curtisay is undeniable, as their harmonies and back-and-forths create a playful and engaging dynamic.
Lyrically, "All Night (Can Duh)" explores the universal theme of enjoying life to the fullest and embracing the carefree moments. The song's relatable and uplifting lyrics, combined with its infectious melodies, make it an instant mood booster that will have you singing along in no time.
"All Night (Can Duh)" is a testament to the creative synergy that can arise from a collaboration between talented artists. With its infectious energy, top-notch production, and memorable performances, this track is a must-listen for fans of pop-infused hip-hop and those seeking an upbeat and refreshing musical experience. Strategy KI, Jumble Beats, Sean Kingsean, and Curtisay have truly delivered a standout hit with "All Night (Can Duh)."
© 2023, AMMPRO. All rights reserved.