Nicki Minaj and Drake Plan Playdates for Their Sons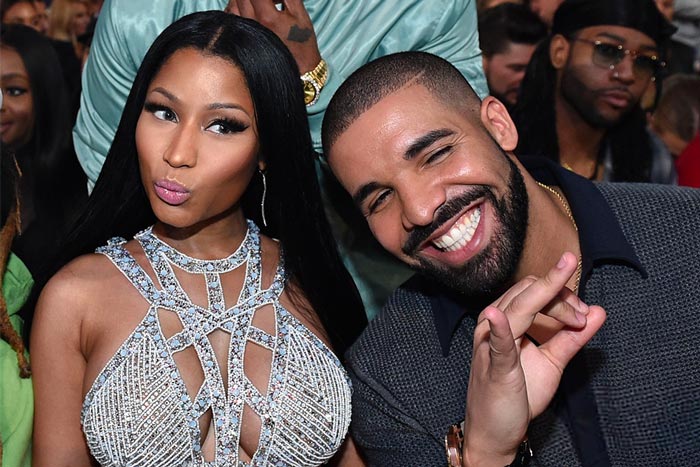 Nicki Minaj and Drake are back on good terms.
On Friday, the rap queen dropped her remix to Sada Baby's "Whole Lotta Choppas" on which she shows love to Drake and his son Adonis. "To be honest, I hope one day, we do a playdate with Adonis," raps the new mom.
It didn't take long for Adonis' father to notice her shoutout. He quickly reposted the song and tagged Nicki, while agreeing to a playdate for their sons. "Play dates soon come @nickiminaj," Drake captioned his IG Story.
In another sign of their renewed friendship, Drake and Nicki also re-followed each other on Instagram. In December 2018, fans noticed that they had unfollowed each other on the social media platform.
The Young Money labelmates, who last collaborated on 2017's "No Frauds," have had their share of ups and downs throughout the years, but they always seem to work things out.
"He's always mad at me over something. He always finds a reason to not be my friend anymore," Nicki told Apple Music's Zane Lowe in 2018. "We're like an old married couple…On the real, Drake also has given me some of the best advice of my career. He's given me great advice. He's very smart. Also, even when I couldn't speak to him, I think he felt the love I will always have for him."
Nicki and her husband Kenneth Petty welcomed their first child in late September. On Thursday, Nicki revealed the baby's gender while gushing about motherhood. "I am so grateful & in love with my son. Madly in love. My favorite liddo boy in the whole wide world," she wrote.
Meanwhile, Drake also released new music on Friday. He can be heard on "You're Mines Still" off Alabama rapper-singer Yung Bleu's Love Scars: The 5 Stages of Emotions EP.