Nivea Says Lil Wayne Convinced Her to Quit Music and Become a Housewife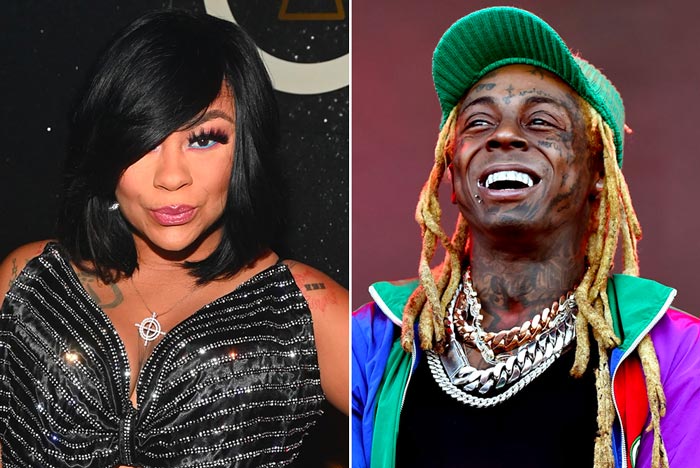 Nivea is opening up about why she left the music industry.
During an interview with Kandi Burruss for her YouTube show "On That Note," the R&B songstress revealed that Lil Wayne showed an interest in her after seeing the video for her 2002 hit "Don't Mess With My Man." So he reached out to Nivea's label and said he wanted to collaborate.
But it turns out Weezy had other interests. "He said, 'I don't wanna do a song with you. I just want your number,'" recalled Nivea, who was working on an album at the time.
The two "just clicked" and started "falling in love," and Wayne eventually convinced her to leave the music industry and move with him to New Orleans. "He said, 'Come be with me. I got you.'"
Nivea took him up on the offer and packed her bags to go live a domestic life. "I'm just sitting there being a housewife," she said.
Wayne eventually decided he wanted to move them into an apartment. Nivea soon realized it was because he wanted to move Toya Johnson and their daughter Reginae back into the house.
"We move out the house and get an apartment. I didn't realize he did that to move Toya back in the house," she said.
Nivea became pregnant with Wayne's son, Neal, around the same time Lauren London was also pregnant with Wayne's son, Kam. But she still stuck it out "'cause I believed he loved me and I loved him."
Despite all the drama, she and Lauren became "sisters." "She really helped me through my pregnancy. We really leaned on each other," said Nivea, adding, "And we both had a history with [Wayne] in our younger years so it was connecting in many different ways."
After the candid interview, Nivea received support from Wayne's other baby mothers including Lauren London and Toya. "Great interview. So proud of you," Toya commented on a post on The Shade Room, while Reginae told Nivea, "I just love you so much. One of the strongest people I know."
Nivea can currently be seen on BET's reality series "The Encore" alongside other R&B singers from the '90s and 2000s including members of 702, Total, Danity Kane, 3LW, Blaque, and Cherish.
View this post on Instagram