ORANGE YOU GLAD TO BE HERE – A CHAT WITH ROCKY SNYDA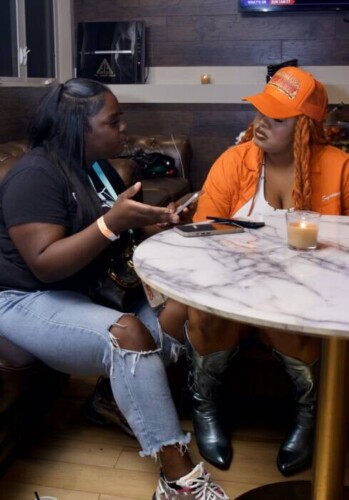 Written by Siani Leigh
Brooklyn-native Rocky Synda came through All Spice World Dance and we were lucky enough to snag her for a brief but, engaging chat. Snyda is one-of-one. However, she represents for the women currently running New York. Boldly rocking her signature orange hair Rocky Snyda exudes confidence and authenticity. Rocky beat Amani to the punch and complimented how pretty she is. The two shared a laugh and the interview began.
Who are your influences?
"I like Biggie Smalls, Kanye West. I like alternative, like Daft Punk. I try to tune into different sh*t… that's not rap, to get to the rap."
What genre would you put yourself in?
"Uuummmmm," she wondered…"Well right now I'm doing a lot of House…like House/Drill. But I like pop…maybe like Doja Cat…Hip-Hop/Pop."
What do you have coming up next?
"Recently, Sibby Liv dropped a riddim called BOOM, I'm on that. Our song together is called 'Ting,' so we're doing SOCA. I'm working on a project right now with my counterpart. I'm in a collective called FUTR LGND. It's going to be a lot of House music, a lot of Dance music. That's the vibe right now."
Amani stopped Snyda right in her thoughts, "AM I INVITED TO THE VIDEO??" With a smile Rocky responded, "Anytime you're in New York hit me up we outside!" The two continued to plan their future girl's day out. They even joked about Amani getting a chopped cheese and New York's train attendants…THE RATS.
To learn more about Rocky, be sure to follow her on all social media platforms: @RockySnyda
© 2023, Mani Cunningham. All rights reserved.