Rick Ross Puts His Spin on the Crate Challenge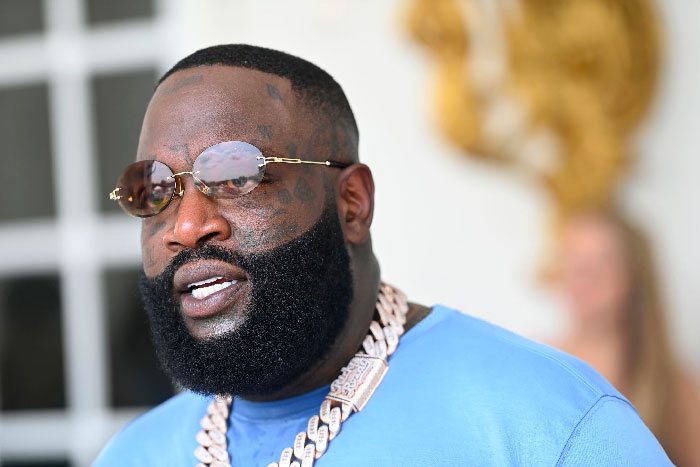 The Biggest Bawse is getting in on the milk crate challenge.
While the craze sweeps social media, Rick Ross is putting his own spin on the viral trend with something he calls the "Luc Belaire Case Challenge," named after his champagne brand.
Instead of milk crates, Ross stacked cases of Belaire champagne and Villon cognac in a gym and proceeded to climb them. However, it's unclear if he successfully completed the challenge as the video cuts right before he gets to the top of the pyramid.
"Be safe.. let's have some fun," Rozay captioned his Instagram Story.
Rick Ross does his own CRATE challenge 😭 pic.twitter.com/9mkgJMkOWv

— 2Cool2Blog (@2cooI2blog) August 25, 2021
The day before, Ross issued a $10,000 challenge that he could make it to the fourth crate.
🧔🏾‍♂️#RickRoss said he putting down $10K 💵 against anybody, that he can make it to the 4th crate! #CrateChallenge pic.twitter.com/MxZrcN1erk

— The Crowd Updater (@TheCrowdUpdater) August 24, 2021
The milk crate challenge has exploded on social media, with people posting their videos on TikTok, Facebook, and Twitter, some of which have received millions of views. Oftentimes, the person falls and there have even been cases of participants landing in the emergency room because of injuries they sustained.
Other artists have also participated in the challenge. Some like Blueface have conquered it, while YK Osiris was less fortunate.
Crate challenge pic.twitter.com/CK2f5spHtc

— blueface (@bluefacebleedem) August 25, 2021
Yk Osiris got me crying 😂😂😂😂 pic.twitter.com/IFfwLHBAa0

— zaay 🖤 (@globalzaay) August 22, 2021