Rolling Stone Reveals Best Songs of 2020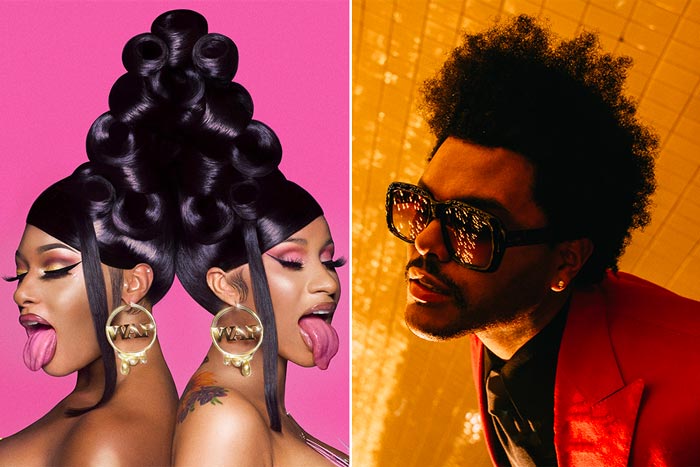 As the year comes to a close, Rolling Stone has revealed its best songs of 2020.
Cardi B and Megan Thee Stallion's "WAP" takes the top honor. "'WAP' was just the escapist raunch America needed in 2020, the sound of two of the strongest women in music defiantly putting the pleasure principle front and center in a moment when fun and joy seemed dead," writes the magazine, while also praising the "brilliant" music video. "The result was a hot-girl summit for the ages."
Coming in at No. 4 is The Weeknd's "Blinding Lights," which spent four weeks atop the Billboard Hot 100. "The real magic is how his voice and the song's chiming keyboard line lingers in your head well after he injects new life into the greatest Eighties-steeped lyrical cliché of them all," says RS.
Megan Thee Stallion earns a second spot at No. 12 with her chart-topping "Savage (Remix)" featuring Beyoncé, hailed by Rolling Stone as an "unstoppable empowerment anthem."
Other honorees include DaBaby and Roddy Ricch's "Rockstar" (No. 14), Mac Miller's "Good News" (No. 21), and Drake and Lil Durk's "Laugh Now Cry Later" (No. 24). "Even when Drake sings about a block that feels like a ghost town, the song's smooth ease feels like a warm breeze," says the magazine.
Elsewhere in the top 50 are Jhené Aiko's "PU$$Y Fairy (OTW)" (No. 27), Roddy Ricch's "The Box" (No. 34), and Doja Cat and Nicki Minaj's "Say So" (No. 43).
Rolling Stone's 10 Best Songs of 2020
1. Cardi B feat. Megan Thee Stallion – "WAP"
2. Bob Dylan – "Key West (Philosopher Pirate)"
3. Christine and the Queens – "People, I've Been Sad"
4. The Weeknd – "Blinding Lights"
5. Taylor Swift – "August"
6. Dua Lipa – "Don't Start Now"
7. BTS – "Dynamite"
8. Fiona Apple – "Ladies"
9. Harry Styles – "Adore You"
10. The Chicks – "Gaslighter"