Saweetie Claps Back at Ceraadi After Being Accused of Copying 'Best Friend' Concept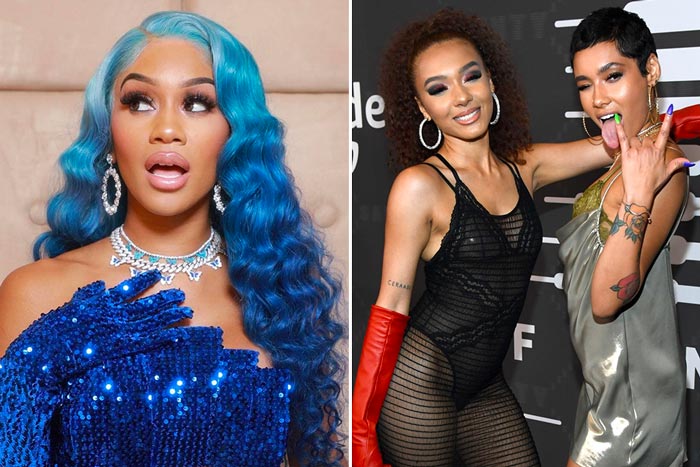 Saweetie's new single hasn't been released yet, but it's already stirring controversy.
Ceraadi called out the "ICY GRL" over similarities between their song "BFF" and Saweetie's "Best Friend" featuring Doja Cat. Taking to Instagram, the R&B duo shared photos of a car scene from their video for "BFF," released in September, side by side with screenshots from Saweetie's upcoming video for "Best Friend." They tagged both Saweetie and Doja in the post and captioned it with a series of emojis.
They also noted the lyrics. Ceraadi's "BFF" includes the lyrics, "When we ride, we be lit, lit / She know she bad, yeah she thick, thick / She gon' do the time if I click, click." On "Best Friend," Saweetie raps, "That's my best friend / She a real bad bitch / Drive her own car / She don't need no Lyft."
View this post on Instagram
After being publicly called out, Saweetie responded with a sarcastic clapback. "Omg we'll totallyyyy add you in the credz! MY IDOLS," she wrote in Ceraadi's IG comments.
#Saweetie gives a nice nasty dose of shade after #Ceraadi accuses her of jacking video concept- ☕️ Sn: are these girls old enough to remember Thelma and Louise? pic.twitter.com/5G7xcBmDuP

— All Tea All Shade (@TeaTimeTips2) January 7, 2021
Saweetie's fans were quick to defend her in the comments, while others pointed out that the "Best Friend" concept is not new and has been done prior to both Ceraadi and Saweetie.
This isn't the first time Saweetie's "Best Friend" has made headlines. Last month, she blasted her label Warner Bros. Records for prematurely releasing the song to streaming services. "I am extremely disappointed in my label WBR for prematurely releasing a single I was so excited about," tweeted Saweetie. "I feel disrespected. I'm hands on with ALL of my creative & had such a dope rollout for 'best friends'."
A video for Saweetie and Doja Cat's "Best Friend," directed by Dave Meyers, is set to debut today at 6 p.m. ET.