Saweetie Denies Reconciliation with Quavo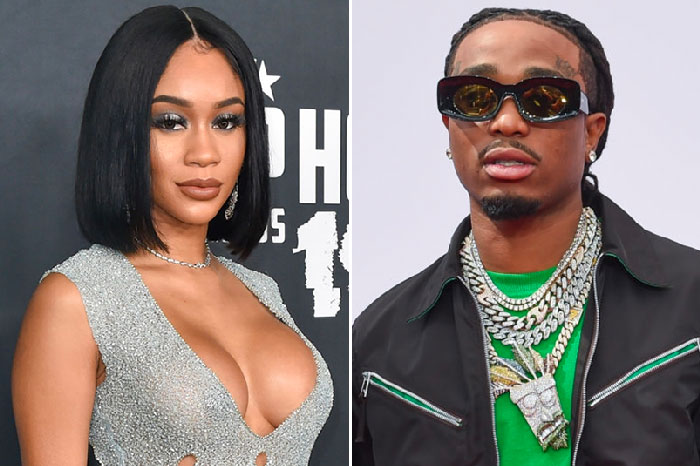 The rumors are not true.
Earlier this week, it was reported that Saweetie and Quavo had been "quietly been spending time together" in New York and that a reconciliation was in the future.
"Quavo has missed Saweetie since they broke up and he's been asking to see her," a source told HollywoodLife. "Apparently she gave in because they linked up in NY and have hung out since they're both there at the same time."
However, it's all cap. Taking to Twitter, Saweetie denied that she and her ex are getting back together. In response to the false report, Saweetie wrote, "pinocchio ass article."
pinocchio ass article 🤥 anyways back to this #saweetiemeal https://t.co/8R09HX8qwm

— BIG MAC MAMA (@Saweetie) August 26, 2021
The "Icy" rapper also took an opportunity to promote her Saweetie Meal at McDonald's. "anyways back to this #saweetiemeal," she added.
The anonymous insider claimed that it was only a matter of time before the couple reconciled. "Nothing is official as of the moment, but don't be surprised if you hear they've reconciled," added the source.
The reunion rumor comes five months after the couple's high-profile split. In March, Saweetie announced that she was single while alluding to Quavo's infidelity. He also repossessed the Bentley he gifted her for Christmas.
Saweetie remains single and focused on her music. She is readying her long-awaited debut album Pretty Bitch Music. "My main goal for this album, I really want the consumer and the listener to feel something," she told Billboard. "I think it will kind of humanize me 'cause as a celebrity, people think we have no emotions… And I think it's a step into what is Diamonté like, not even what Saweetie is."