Snoop Dogg Squashes Beef with Eminem: 'We Good'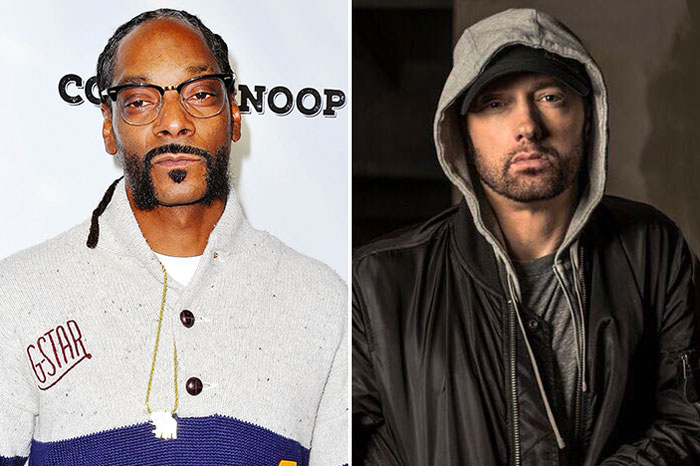 Snoop Dogg and Eminem are putting their beef to bed.
The longtime friends are on good terms after the fallout from Snoop's recent remarks excluding Eminem from his top 10 rappers, which inspired Eminem to fire back with his "Zeus" diss.
Now after going back and forth, Snoop is downplaying a rift between the two. Tha Doggfather addressed the so-called feud on an old photo of him with Eminem and Dr. Dre that included the caption "I wonder what changed!!" Snoop left a comment on the Instagram post, writing, "Nothing we good."
Seems like all is good from Snoop now💪🤝 pic.twitter.com/oRyHz29d3j

— Mainly Eminem (@MainlyEminem) January 12, 2021
Back in July, Snoop did an interview with "The Breakfast Club" and explained why Eminem was not deserving of a spot in his top 10 MCs, saying he could "live without" the Detroit rapper's music.
The comments prompted Em to clap back on "Zeus" off his new project Music to Be Murdered By – Side B. "And diplomatic, 'cause I'm tryna be / Last thing I need is Snoop doggin' me / Man, dog, you was like a damn God to me / Man, not really / I had dog backwards," he raps.
Commenting on a fan's Instagram post, Snoop slammed Em's diss, writing, "Pray I don't answer that soft ass Shit."
Daz Dillinger shed some light into their rocky relationship, claiming it stems from a feature that Eminem turned down years ago. According to Tha Dogg Pound rapper, Snoop agreed to appear on "Bitch Please II" for Eminem's 2000 album The Marshall Mathers LP. But when Snoop asked him to appear on his album, Em didn't return the favor.
"When I was talking to Snoop, he said he asked Eminem to get on his album and they told him no… And Snoop felt some type of way," Daz said. "He took it personally. And from then on, that's why you never heard a song from Snoop or Em."