Swizz Beatz Responds to Drake Diss on 'Certified Lover Boy'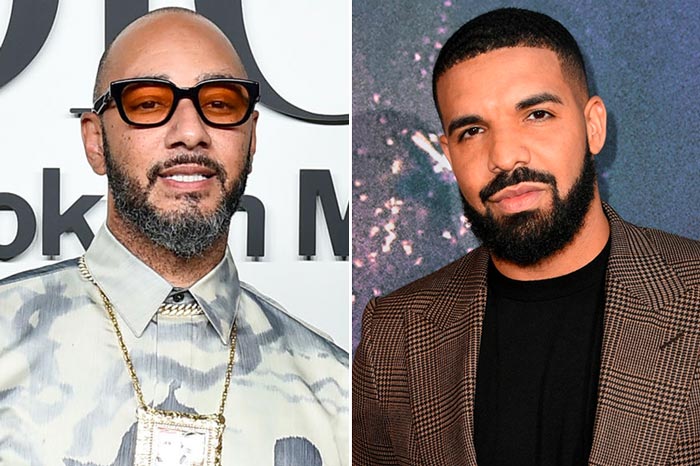 Swizz Beatz is leaving his beef with Drake behind.
The super-producer is addressing their feud in the wake of Drake's diss on Certified Lover Boy. On "You Only Live Twice," the Toronto rapper takes shots at his "Fancy" collaborator.
"Unthinkable when I think of the way these ni**as been actin'," he raps. "Yeah, I never did nothin' and you play like we family, huh? / Next thing, you wanna shoot me down, it can't be love / Not sure where you was tryna send it, it can't be up / That day you sounded like a bitch, you fancy, huh?"
The diss followed Swizz' Instagram Live rant against Drake last year when discussing a J Dilla-produced collaboration between Drake and Busta Rhymes.
"He's not a bad kid, he's a good kid. He started from different things. We made hit records together, it's all love. I don't want no problems with anything," Swizz said. "At the end of the day, ni**as is pussy for real. What's up? Pop off. Let's go."
Swizz also said "shoot your plane out the sky," a possible reference to Drake's private jet designed by Virgil Abloh. Swizz later addressed his comments. "Spoke on some things that I definitely shouldn't have spoke on," he said, prompting Drake's right-hand-man Chubbs to respond. "We don't need no apology. It's clear you don't like us so act that same way when you see us. Pussy."
Now Swizz is addressing Drake's CLB diss. During an interview with Timbaland on Angie Martinez' Power 105.1 show, the Verzuz founder downplayed the rivalry.
"I'm cool," he said when Angie questioned his relationship with Drake, while admitting that he likes the song. "I actually like the song, song's dope. It's cool, man."
Angie suggested to Swizz that he started the beef. "People might think I started it because the way I came at it, but I never say things for no reason…But it's cool, that was something that's old."
While he respects the competitive spirit of hip-hop, Swizz doesn't plan to respond. "It started off with two artists feeling some type of way, going at each other, and this, that, and the third," he continued. "I'm chillin', man. A lot of people wanna see me react and do all these things. I'm in such a great zone, man. I said how I felt, he said how he felt. Hey, man, I guess we even, right? As far as now, I'm good. I'm man enough to be like, 'OK, he said how he felt.'"
Swizz also acknowledged that Drake could have taken more shots. "And I actually like the song. And he didn't go too crazy in the record also. He could've said many things, that man is a clever artist…He could of really, really, really gave me about 40 bars. Blessings to everybody."
Elsewhere in the interview, Swizz revealed that Kanye West wanted to do a Verzuz battle with his rival. "Kanye was willing to do the Verzuz … He wanted to battle Drake," Swizz said. "I left that up to them, and that's what I told to Timb, as well. I was like, 'Yo, they have to bring that to the table.' They would have to agree to do that. Kanye was ready, but I don't know where that's at now. I'm still leaving it on them."