SZA Returns with New Song 'Hit Different' Featuring Ty Dolla $ign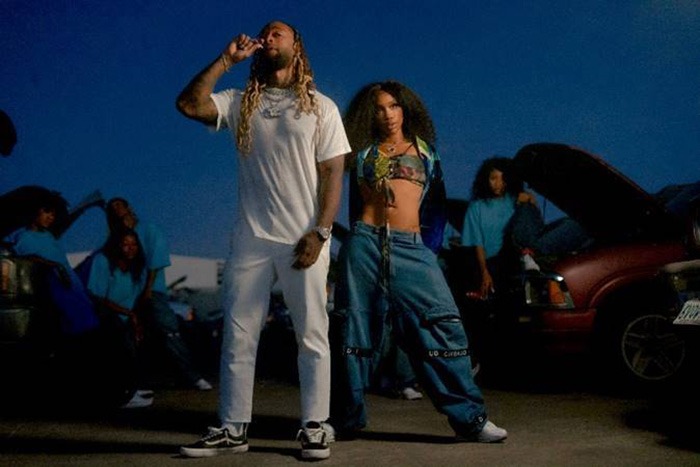 The wait is over.
After much anticipation, SZA returns with her surprise song "Hit Different" featuring Ty Dolla $ign. Produced by The Neptunes, the mid-tempo bop showcases SZA's hypnotic melodies alongside Ty's smooth flow. Along with the song, she has released a stunning video, marking her directorial debut.
Speaking with Apple Music, SZA opened up about her dream collaboration with Pharrell Williams and Chad Hugo. "I can't really wrap my head around the experience and I think more so I'm fangirling off of having a track produced by probably the most formative producers and artists for me when I was growing up," she said.
"I cried just explaining to Pharrell what he meant to me growing up here in the burbs—being one of five black people in my radius. It just was really crazy because you have your idols in your mind and I avoid mine all the time in case it don't go well. And I just was really astonished. Chad was just perfect and Pharrell was just perfect. It was too perfect."
It's been three years since SZA released her debut album, but it looks like the long-awaited follow-up to Ctrl is finally nearing a release.
"I just really want to put out more music and more—this body of work that I've been working on…everything sounds different," she said. "But it all sounds like me. But I realized…as long as the essence of me is in it I'm not really stressed about continuity or making sense to anybody. I've been making a shit ton of music. If you really leave it up to me, ain't no telling when shit's gonna come out because I have anxiety… I've never felt so loose in the world before."
Just wanted to start sharing stuff.. first time directing ..thank you to everyone involved that brought my heart to life .. thank u for putting up w me #TDE. dump on the way https://t.co/y9hLn1wX4c pic.twitter.com/HmNcisLwAn

— SZA (@sza) September 4, 2020