That Mexican OT and Lefty SM Connect for "Barrio"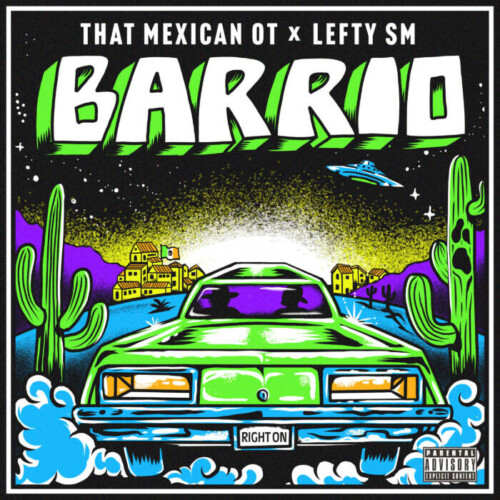 Bursting out of his home state with his Texas-sized talent, That Mexican OT is ready to turn heads. Today, the Houston-area rapper announces Lonestar Luchador, his next album. A concept album that draws parallels between the rap game and the high-flying world of Mexican wrestling, Lonestar Luchador is an ambitious effort that incorporates a world of wide-ranging influences and sharp pop cultural references into OT's Texas-fried sound. Home to the breakout hit "Johnny Dang" ft. Drodi & Paul Wall (racking up over 1.5 million streams per week), Lonestar Luchador arrives on July 28th via Manifest/GoodTalk/Good Money Global.
That Mexican OT shares the video and audio for "Barrio," a bilingual collaboration with red hot Mexican rapper Lefty SM and a highlight from the album. On "Barrio," That Mexican OT leans into his heritage, rhyming in English and Spanish over an instrumental that heavily borrows from the regional Mexican sounds tearing up the Billboard charts. Set in a brisk 6/8 waltz time, song makes heavy use of acoustic guitars and guitarrón (six-string Mexican bass), as OT and Lefty talk their smack in their native languages. Directed by DGreen Filmz, the video switches focuses between OT's Houston and Lefty's Guadalajara, showing how the real ones live on either side of the border. OT posts up on the city's outskirts for an incredibly Tex-Mex affair, as they host a cockfight, serve delectable tacos, and show off their tricked-out Cadillacs.
"Barrio" arrives hot on the heels of "Johnny Dang," That Mexican OT's breakout hit, released earlier this summer. First gathering heat as a snippet on TikTok and Instagram (generating over 11 million views across the two platforms), "Johnny Dang" has become a sensation, garnering over 13 million Spotify streams and 9.5 million YouTube views in just six weeks. The Paul Wall and Drodi-featuring song has spent weeks in the top ten of Spotify's U.S. Viral 50 chart, and just this week, hit a new #11 peak on the Billboard Bubbling Under Hot 100 chart. That Mexican OT is currently the cover artist for Spotify's "Most Necessary" Playlist, with "Johnny Dang" as the lead song.
With "Johnny Dang" climbing charts, "Barrio" crossing boundaries, and Lonestar Luchador on deck, That Mexican OT is ready leap from the top rope. Stay tuned as OT bursts out of the Houston scene to take over the mainstream.
© 2023, Seth "Digital Crates" Barmash. All rights reserved.