Tiffany Haddish Takes Shots at Nicki Minaj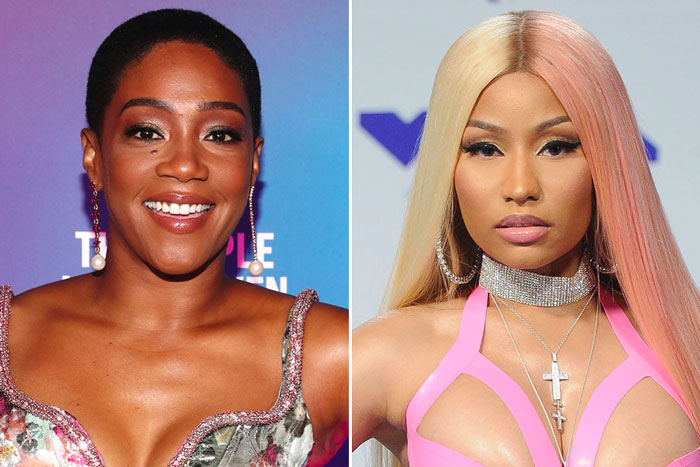 Tiffany Haddish is putting Nicki Minaj on blast.
During a recent Clubhouse chat, an unidentified man made the mistake of comparing the comedian to the Queen rapper. "You're like the Nicki Minaj of comedy right now. You're just killin' the motherfu**in' game," said the male voice.
But Tiffany didn't take too kindly to the comparison. When another person added that "unlike Nicki, she shows up on time," Tiffany herself weighed in while taking aim at Minaj.
"And unlike Nicki, I treat everybody with respect and dignity," she shot back.
YIKES! Audio Of Tiffany Haddish Responding To Being Labeled The Nicki Minaj Of Comedy Surfaces, " Unlike Nicki I Treat Everyone With Respect" pic.twitter.com/Fqk3faGUkU

— NOIR ONLINE (@noironlineorg_) March 15, 2021
While it's unclear what triggered her response, it may have to do with the 2018 MTV VMAs, when Tiffany made a joke about Fifth Harmony that wasn't received well by Nicki. "And Tiff, don't be coming for Fifth Harmony 'cause Normani is that bitch," said Nicki.
Nicki Minaj reminded Tiffany Haddish not to mess with Fifth Harmony because "Normani is that b*tch" https://t.co/3BXfCKU3u0 #VMAs pic.twitter.com/oCQsxFyB5j

— The Cut (@TheCut) August 21, 2018
50 Cent also stepped in to defend his fellow Queens rapper following Tiffany's comments. "I don't know why people mess with Nikki. LOL," said 50, who has shared his support for Nicki in the past.
Tiffany won her first Grammy for Best Comedy Album for Black Mitzvah at Sunday's Grammy Awards, becoming the first Black woman to win in that category since Whoopi Goldberg in 1986.
the way 50 will always have her back ❤️ pic.twitter.com/DL4hGtnOkw

— 🇯🇲 (@minajsinner) March 15, 2021