Tyler, the Creator and Machine Gun Kelly Star in 'Jackass Forever' Trailer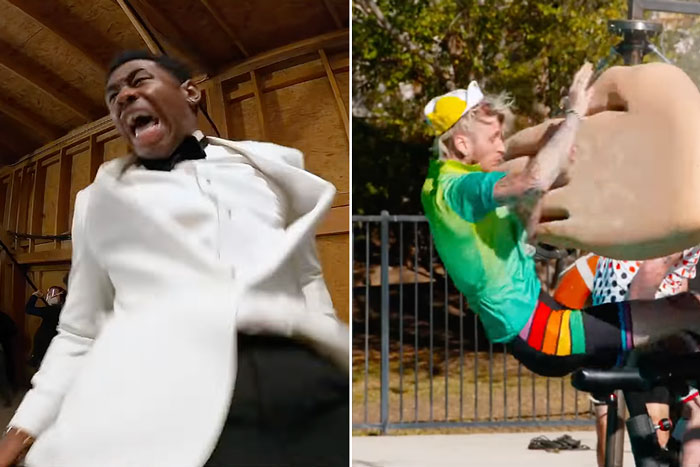 Tyler, the Creator and Machine Gun Kelly are joining the Jackass gang.
Over a decade since the last film installment, the famed franchise is headed back to theaters this fall. In the first trailer for Jackass Forever, Tyler and MGK link up with Johnny Knoxville and Steve-O—who are all grown up—for some ridiculous and hilarious stunts.
The "Wild Boy" himself, MGK, pedals an exercise bike alongside Steve-O before being slapped out of his seat and into a pool by a giant hand contraption. "You said it wasn't going to feel like anything!" he tells Knoxville while drying off.
A tuxedo-clad Tyler gets electrocuted during his painful stunt, while his former Odd Future cohort Jasper Dolphin parachutes off a ramp before making a rough landing.
The original Jackass cast is back including Chris Pontius, Wee Man, Ehren McGhehey, Dave England, and Preston Lacy. Post Malone is also set to appear in the movie, but he is not in the trailer.
Jackass Forever lands in theaters Oct. 22. Watch the trailer below.