United Justice Coalition and Roc Nation Set To Host Second Annual Social Justice Summit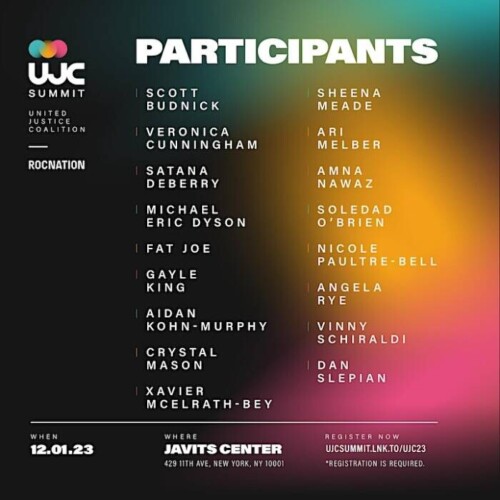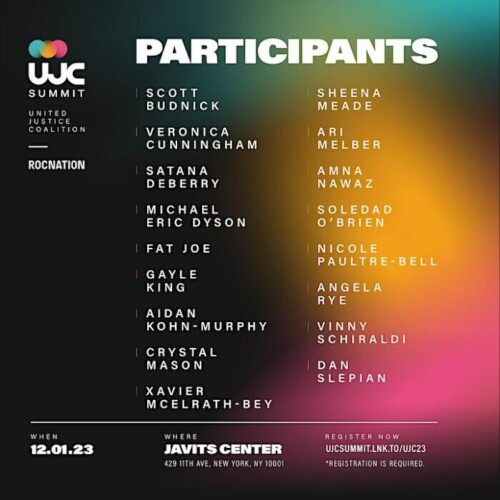 Register HERE To Attend The Free Event & Watch Fat Joe, Michael Eric Dyson, Gayle King & More at the Javits Center in NYC on Dec. 1
The United Justice Coalition (UJC) is a charitable organization that works across disciplines to raise awareness around key social justice issues and the need for criminal justice reform. The group is made up of an esteemed array of expert advisors that come together to strategically share resources, information and ideas to address systemic injustice across America and unify communities. The UJC is committed to amplifying critical issues, leveraging support for on-the-ground advocacy and social justice organizations and advancing just legislation and policies.
The United Justice Coalition (UJC) and Roc Nation announced that it will host the second annual United Justice Coalition Summit on Dec. 1 at the Javits Center in New York City. The Summit will feature a versatile list of speakers, panel discussions and examine a wide array of topics, such as civic engagement, probation and parole laws, sentencing alternatives, and much more. 
The annual UJC Summit convenes leaders, experts and advocates across a wide range of fields who are committed to exchanging ideas and inspiring conversations to advance justice. The Summit, which is open to the public at no cost, creates a community of those who are publicly taking action on the world's most pressing challenges by activating resources across the nation.
The first wave of confirmed speakers at this year's free event includes Grammy-nominated artist Fat Joe, author/professor Dr. Michael Eric Dyson, IMPACT Strategies CEO Angela Rye, CBS Mornings host Gayle King, MSNBC host Ari Melber, Co-Anchor of PBS NewsHour Amna Nawaz, District Attorney for Durham County (North Carolina) Satana Deberry, CEO, 1Community and Founder Anti-Recidivism Coalition Scott Budnick, Gen-Z for Change founder Aidan Kohn-Murphy, Maryland Secretary of Juvenile Justice Vincent Schiraldi, activist Nicole Paultre-Bell (fiancée of Sean Bell), NBC News award-winning journalist Dan Slepian, Co-Executive Director of the Campaign for Fair Sentencing of Youth (CFSY) Xavier Mcelrath-Bey, award-winning documentarian, journalist, speaker, author, and philanthropist, and founder of Soledad O'Brien Productions Soledad O'Brien, Executive Director/CEO American Probation and Parole Association Veronica Cunnighman, Chief Executive Officer of the Clean Slate Initiative Sheena Meade and voting activist Crystal Mason.
Beyond speaking opportunities and town halls, this year's Summit will also have stations on-site dedicated to providing legal information, and networking sessions. 
This year, the UJC Summit will include a retail area and an art gallery that will leverage art, short films and books by speakers as a form of storytelling and activism. There will also be an organization exhibition area that will highlight over 60 national and local non-profit organizations and showcase their mission, programs, resources and calls-to-action with all attendees.
"The UJC is committed to creating an experience where individuals from all backgrounds can come together to take action around key justice issues and reforms in our country," UJC founding member and Roc Nation managing director Dania Diaz said. "Together, we want to exchange resources and ideas to support advocacy efforts and help tackle the challenges affecting communities across America."
The inaugural UJC Summit took place in July 2022 and brought together 45+ dynamic speakers, such as San Antonio Spurs coach Gregg Popovich, Fanatics CEO Michael Rubin, multi platinum artist Yo Gotti, TV and media personality Charlamagne tha God, national civil rights attorney Ben Crump, CEO of the Martin Luther King, Jr. Center for Nonviolent Social Change Dr. Bernice A. King, New York Attorney General Letitia James and U.S. Attorney for the District of Massachusetts Rachael Rollins, among several other acclaimed activists, entertainers, attorneys, and experts. 
The panelists analyzed a range of critical topics, including wrongful conviction, the decriminalization of mental health, conditions of confinement, policing in America, transitioning in and out of the criminal justice system and more. The families of Eric Garner, Botham Jean, Antwon Rose II and Terence Crutcher also participated in a panel that examined how they channeled anger into advocacy after their loved ones were tragically shot and killed by police officers.   
If you're interested in learning more about the UJC and the forthcoming summit, please visit https://www.unitedjusticecoalition.com/ujc-summit-2023. 
© 2023, Seth "Digital Crates" Barmash. All rights reserved.