Veeze Announces The Ganger Tour with Video for "Overseas Baller"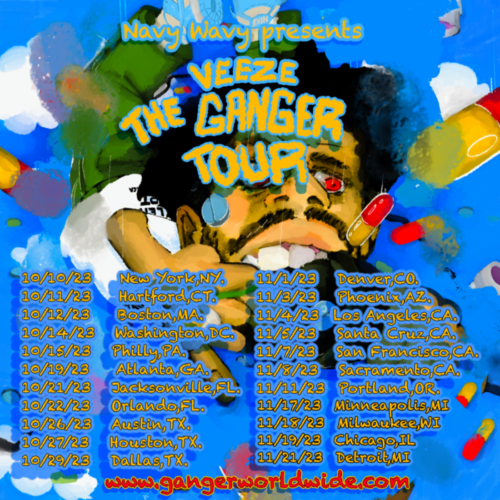 Mystifying Detroit rapper Veeze has just shared a new music video for "Overseas Baller", and announced his forthcoming Ganger Tour in support of his recently-released, long-awaited album Ganger. Filmed while on tour across Europe, the new "Overseas Baller" video finds Veeze touching down in Paris, Amsterdam & Germany, while linking up with his tour mate & close collaborator Babyface Ray as well as Bb trickz.
Backed by one of the biggest hip-hop songs of the year in "GOMD" (14M+ Streams) and its remix with Lil Uzi Vert, the highly-anticipated Ganger is only Veeze's second full-length release – after 2019's Navy Wavy. Over the past few years, Hip-Hop fans have been patiently waiting for the release of Ganger as Veeze had been actively teasing it and its greatness – the result is a comprehensive offering from a rapper who has spent his career carefully mastering his craft, his witty lyricism & forward-thinking sound. Serving as an accumulation of Veeze's artistic evolution across its 21 songs with features from Lil Yachty, Lil Uzi Vert, LUCKI, Babyface Ray & Icewear Vezzo, Ganger is an expansion of Veeze's cannon of syrupy flows and slurred yet tight-knit bar work over an eclectic batch of beats. Tracks like "Safe" & "Weekend" showcase his more relaxed flows, while other tracks like "Sexy Liar" find him flexing his authoritative bars and experimental cadences. The release of Ganger has proven to mark a pivotal moment in Veeze's career development, earning praise from nearly every major publication – including Pitchfork, The Washington Post, Rolling Stone & others. Having recently wrapped up the European tour alongside Babyface Ray & Shawny Binladen, Veeze will be continuing to usher in this new era by delivering lively performances across the United States in support of Ganger, beginning this October.
[embedded content]
© 2023, Seth "Digital Crates" Barmash. All rights reserved.