Wack 100 Threatens to Beat Up 21 Savage During Argument Over 6ix9ine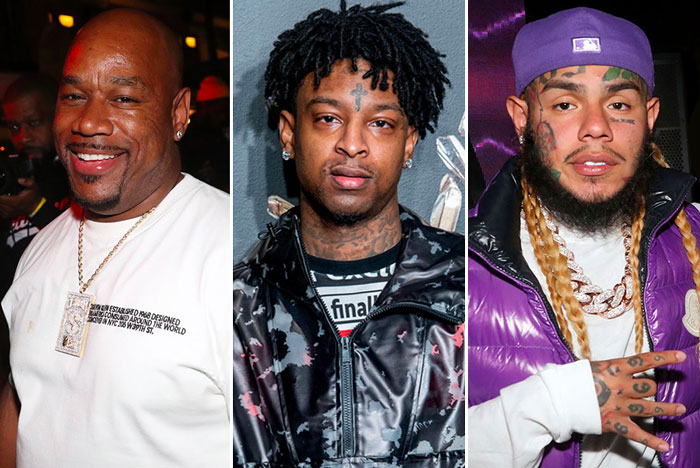 Wack 100 wants smoke with 21 Savage following a heated argument over 6ix9ine.
During a Clubhouse chat on Thursday (Aug. 5), the Savage Mode rapper criticized Blueface's manager for agreeing to speak with a "rat" like 6ix9ine on Akademiks' "Off the Record" podcast earlier in the week.
"I said you lame for agreeing with anything that n***a [6ix9ine] say," 21 said, according to Complex.
"OK, so when you say, 'lame,' 'cause y'all lingo a little different, what you mean by 'I'm lame,' what you mean?" Wack asked.
"Like I don't agree with it," 21 replied. "I just feel like a gangsta and a rat can't agree on nothing in life. I don't give a damn how right a n***a is."
"So a gangsta and a rat should never communicate, right?" Wack asked.
"Not really 'cause of the industry that we in, I say, like, I wouldn't really say that," 21 said. "I ain't finna agree with what no n***a say about no other n***a like how you said that you agree with him that I was s'posed to run up on him in the club. First of all, on my kids, I did not see that n***a in no club."
However, 21 Savage acknowledged that he spoke with 6ix9ine on the phone Wednesday night for at least 30 minutes. When Wack asked what they were discussing, 21 said, "Asking him why he talking the way he talking."
"We not finna do all this fake gangsta shit on Clubhouse," 21 shot back when he was called out by Wack for communicating with 6ix9ine.
Things then escalated as Wack threatened to kick 21's ass. "21, respectfully nephew, I know you and we always been solid and I'ma keep it real," he said. "Me and you both know if you was standing in front me right now, you wouldn't have that energy."
"N***a, I will beat yo muthafu**in' little ass, you little biddy ass boy!" Wack told 21. "I'm not no rapper, n***a, I will f**k you up, n***a. I will beat your muthafu**in' ass…I'll come to Atlanta, you can come to L.A. We can get down wherever you want to get down–I will beat yo ass! You gonna respect me, n***a and you gettin' outta line. I will f**k you up, n***a!"
Savage didn't seem fazed by the threats, telling Wack to "say less," while 6ix9ine could be heard egging him on.
"You don't gotta do all that, I'm scared already," 21 joked.