50 Cent Instigates Beef Between 'Power' Stars Joseph Sikora & Gianni Paolo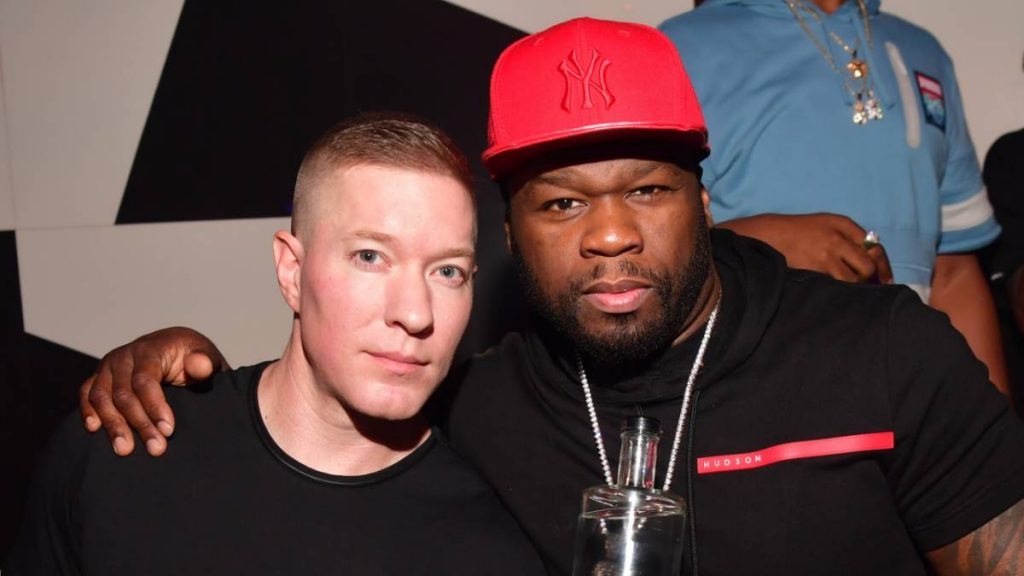 50 Cent isn't looking to play peacemaker between Power stars Joseph Sikora and Gianni Paolo — in fact, quite the opposite.
Sikora, who plays Tommy Egan, and Paolo, who stars as Brayden Weston in both the original series and its Power Book II: Ghost spin-off, were involved in a tense exchange during a 50 concert as part of his Tycoon Weekend in Houston last weekend.
A video from the event shows Paolo approaching Sikora on stage while 50 performs the Power theme song and offering a handshake, only for Sikora to leave him hanging. Paolo then brushes off the burn by patting his co-star on the shoulder and walking away.
Il est sérieux Tommy (Joseph Sikora) il met un vent à Brayden (Gianni Paolo) comme ça au concert de 50😂😂😂😂#Power #TommyEagan #BraydenWeston pic.twitter.com/hCpzzINKnk

— Lewis Warren (@WarrenLewisjr) August 29, 2022
Things spilled over onto social media, where Sikora initially claimed the two of them had worked out their differences. "We saw each other at the hotel afterward and talked. All good. [thumbs up emoji]," he commented under a post of the exchange.
However, Paolo refuted the claim and proceeded to air Sikora out on his Instagram Stories, revealing the 46-year-old actor has had a problem with him for some time.
"Listen I was gonna leave this shit alone but ppl keep sending me this and dude just straight up telling lies," he wrote. "It's not 'all good.' I asked him in the elevator what his deal was with me cause he's been doing this shit for years when I've shown nothing but respect and love.
"He kept just saying he doesn't fuck with me. Nothing was resolved. Stop spreading lies cause people are pressing you about your saltiness. I've said nothing but amazing things about this dude on the podcast and if you listen to it you know."
He continued: "Season 6 of Power he was the nicest guy in the world to me. Then when Ghost happened everything switched up. If you're gonna try and pretend like shit is resolved for social media cause you're mad everybody is asking why a 47 year old man is throwing shade at someone who everybody fucks with then at least do better than that my guy."
In a follow-up Instagram Story, Paolo added: "He's been doing this shit behind closed doors for years. YOU made this public on stage grandpop not me. Now you're dealing with the outcome of being a child."
50 Cent, co-creator and executive producer of the Power universe, appeared to revel in the brewing beef between two of his leading men by adding more fuel to the fire.
"[eyes emoji] oh shit, it's up!" he wrote on Instagram on Wednesday (August 31) while sharing screenshots of Sikora and Gianni's social media exchange. "Now I never like to start shit but you should sock him Tommy, wait i think this little n-gga Brayden got a knife . lol."
Paolo replied in the comments section: "Nah 50 cmon [crying face emoji]." Sikora has yet to further address the drama.
View this post on Instagram
Joseph Sikora and Gianni Paolo weren't the only ones feuding during 50 Cent's Tycoon Weekend. Houston natives Trae Tha Truth and Z-Ro (who are cousins) were involved in a physical altercation on Saturday (August 27) following 50's celebrity basketball game in the Texas metropolis.
Footage of the scuffle showed Z-Ro balled up on the ground while being attacked by Trae's crew, before getting back up ready to throw hands. Police eventually intervened and stopped the fight.
Z-Ro later claimed Trae and his entourage "sucker punched" him, although the Street King rapper had a different version of events.
"It wasn't no 7-on-1 situation. It wasn't no blindside ambush. That's not what this is," he said in an Instagram video addressing the incident. "This is family business, internal stuff that's been going on for 10, 15 years that's probably been building up and just spilled over into shit."