50 Cent Reacts To Brian Robinson Jr. Making NFL Debut To 'Many Men' After Being Shot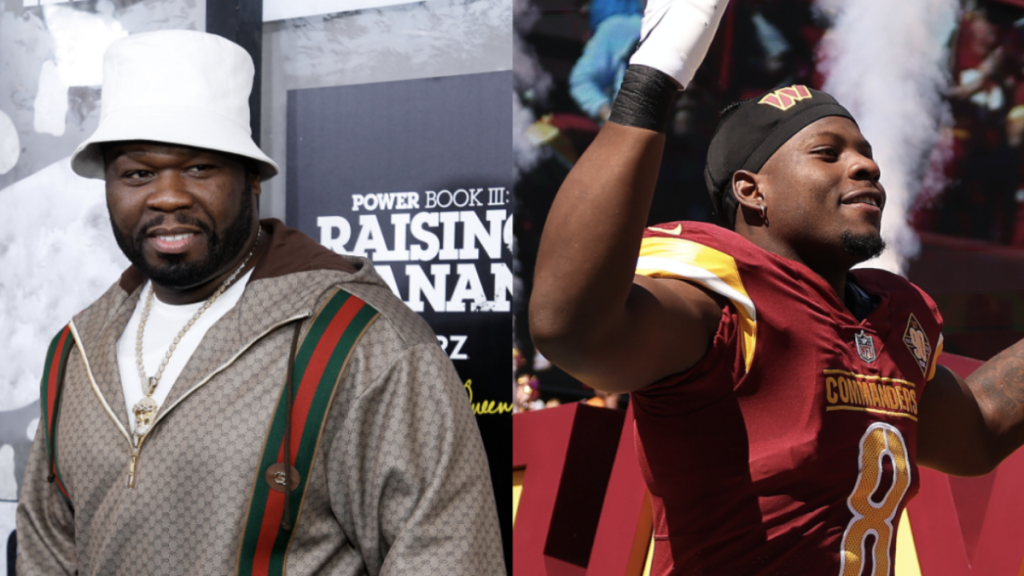 North Englewood, MD – 50 Cent is revelling in one of the most inspiring NFL stories of the year so far.
Although the Washington Commanders lost to the Tennessee Titans on Sunday (October 9), running back Brian Robinson Jr. stole the show by making his debut just six weeks after being shot twice in late August.
The rookie out of Alabama was introduced to the home crowd with an epic entrance soundtracked by 50 Cent's "Many Men," which has since gone viral on social media.
Following the game, 50 took to Instagram to salute Robinson Jr., writing: "That shit ain't stop nothing, when God has bigger plans it's just a bump in the road. @b.robinson_4 right back in action."
View this post on Instagram
The 23-year-old rookie finished with nine carries for 22 yards in his debut as the Titans got the better of the Commanders by a score of 21-17.
Robinson Jr. was shot twice in the leg during a robbery in Washington, D.C. on August 28. The third-round draft pick, who was expected to be the team's starting running back after an impressive training camp, was picking up something to eat when he was approached by two armed teenagers.
After fending off one assailant, he was shot by the other, with the bullet striking his right knee. Luckily, it missed all his bones and ligaments. Robinson Jr. was rushed to the hospital and had emergency surgery the following day.
"That was probably the lowest point I've ever been in my life," he told Yahoo! Sports last week while reflecting on the shooting.
50 Cent, meanwhile, was shot nine times outside his grandmother's home in Queens, New York in 2000, temporarily derailing his burgeoning rap career. The G-Unit boss would bounce back three years later with his 9x platinum debut album Get Rich or Die Tryin', home to "Many Men."
The punishing track found 50 defiantly celebrating beating the odds while addressing his enemies. "Many men wish death upon me / Blood in my eye, dawg, and I can't see / I'm tryin' to be what I'm destined to be / And n-ggas tryin' to take my life away," he rapped.
Brian Robinson Jr. isn't the only one channeling 50 Cent's 2003 anthem after surviving a shooting. Last month, Bronx rapper Lil Tjay dropped a remix of "Many Men" dubbed "FACESHOT" after recovering from the June shooting in New Jersey that left him requiring emergency surgery.