50 Cent's Son Marquise Makes Peace Offering Following $6700 Child Support Spat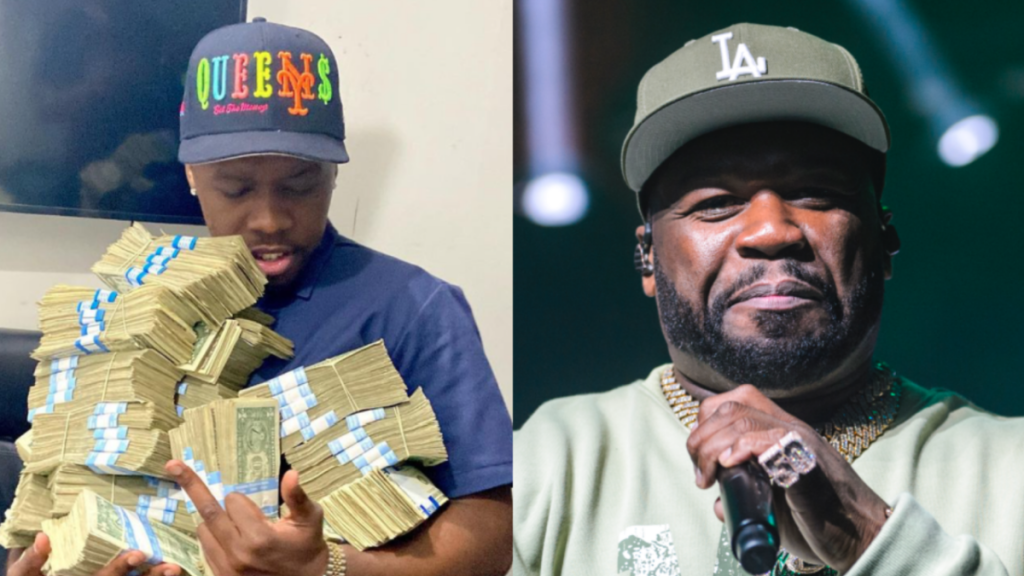 50 Cent's son Marquise Jackson wants to have a sit-down with his father following their $6,700 spat over spending time with each other.
During a new interview with TMZ, Jackson revealed he wants to have a conversation with his dad and gain his perspective of their estranged relationship, whether or not they agree with each other's points of views.
"I don't even know if a sit-down can actually restore the situation," he began. "It's just more so an olive branch. If you're up for it, I'm up for it. I'm definitely willing to sit down with him so I can hear his perspective and gain a little bit of understanding. We're both men at the end of the day – we should be able to agree and disagree and it not be a problem.
"He believes that, from his perspective, he thinks I'm entitled, when that's not the case. It's never been about the money for me, it's more so the relationship and for me, personally. It's more so for the relationship more than the money for me, because if it's about the money, then I'm willing to put it up to at least make the situation a little bit better if possible."
Marquise Jackson doesn't know what would come from meeting up with 50 Cent, but has questions he wants to put to his father. If money is the way they're able to connect, he's more than happy to pay up.
"Honestly, I don't know what to expect from this situation if we do have a sit-down," he admitted. "I don't necessarily know what to expect or what it looks like, but if it takes me paying for his time, I'm more than willing to do that. Maybe we could just gain understanding of each other, maybe we could understand each other a little bit better, and maybe that's what a better situation looks like."
He added: "But I can't tell you exactly what it should look like or what it would look like, because then that's like me being a kid again and just living in my dreams. You get older, you're more mature, you start thinking about things, and it's like, you might have questions. It's just a situation that's unfortunate, but it's like, what can you do at this point?"
Earlier this month, Marquise Jackson claimed the $6,700-a-month child support payments he received from 50 Cent wasn't enough to sustain his lifestyle in New York City. Following the public's response to his comments, he took to Instagram to offer his father $6,700 to spend a whole day with him.
"Since y'all think $6,700 is sooo much money someone tell my pops I will pay him $6,700 for just 24hr of his time so we can do everything I ever wanted to do with him as a kid," he wrote while spelling out "Entitled" with cash in his photo. "Red Yellow Green whatever color he like."
50 Cent responded by sharing a screenshot of a comment Demetrius "Lil Meech" Flenory Jr. made on his son's post, which read: "You Stupid @199viq I'll Take 5 Over There Myself I Might Even Play Some Games With You."
The G-Unit boss posted the screenshot alongside a trailer for The BMF Documentary: Blowing Money Fast, while writing in the caption: "[grinning squinting face] @lilmeechbmf & @michaelraineyjr know what's up stupid! BLOWING MONEY FAST 10.23.22 it's lit ?"
Marquise Jackson went on to troll his father on Wednesday (October 12) by sharing a poster for a parody TV show called Power Book III: Raising Marquise in place of 50 Cent's Power Book III: Raising Kanan series.
"Nahh who made this?" he wrote. "I'm not stupid I went to private school remember? MY POPS don't be entitled to your feelings. Ion need not a dollar from u and If you need me to promote your show just say that. Somebody tell starz I got a story to tell we know what the people wanna see. Red Light Green Light 1….2….3 #ItsInMyBlood."
View this post on Instagram