Akon Explains Why He Wanted To Mentor 6ix9ine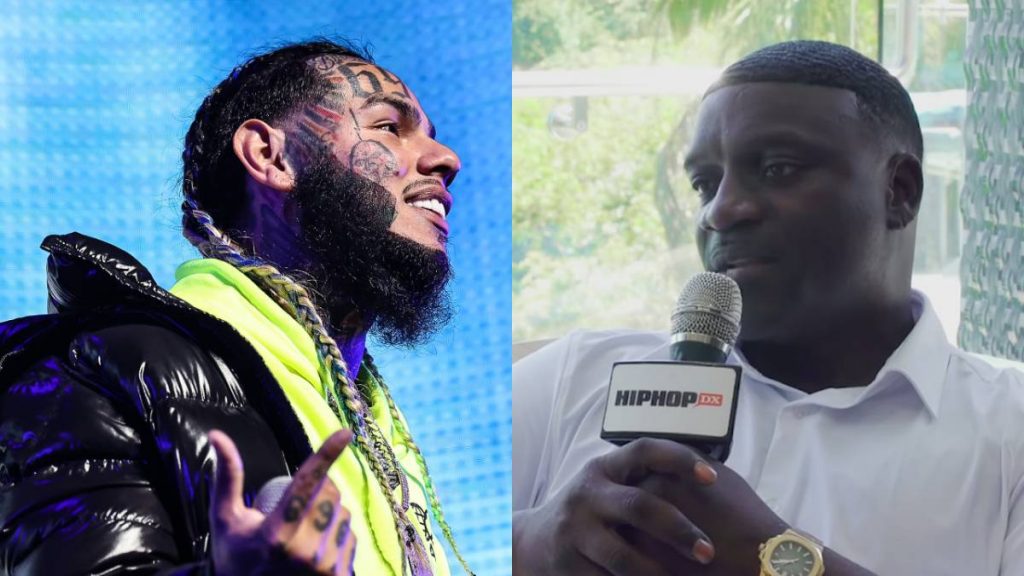 EXCLUSIVE – Akon has spoken about the time he wanted to mentor 6ix9ine early on in his career and said he doesn't think the rainbow-haired rapper should be labeled as a "snitch."
"When you come from a certain specific kind of background where you run from that kind of stuff, you wanna surround yourself around the most positive things around you," Akon said in an exclusive sitdown with HipHopDX.
"When you look at Hip Hop today and how it glorifies violence and how it glorifies gangsters and these gangs, it's kinda sad because you would think that the people that actually had any taste of it would kind of mentor these kids and give them an opportunity to understand that what they're talking about is not a video game."
He continued: "These kids are shooting real guns, real bullets and once you go down ain't no coming back from that. I remember getting a lot of slack for standing next to 6ix9ine in the position that he was in at that time, and I'm like, bro, who's gonna talk to him?
"All y'all OG's are claiming to be street and OG but none of  y'all took the time to guide this kid in the right direction. Or is it that you're just talking and all you care about is the reputation? Your reputation shouldn't be what destroys your career."
While 6ix9ine's decision to become the federal government's star witness in the case against the Nine Trey Gangsta Bloods was detrimental to his career, Akon said he tried his best to instill the right values onto the New York rapper, and told him being loyal to a "street code" was not the way to go about it.
"I told him straight up man you're family is always the most important thing in your life, I don't give a fuck what the streets tell you," Akon said. "If whatever you gotta do to protect your family that's what you do. It got nothing to do with being gangster, it's about being a man and accepting the responsibilities that come with it, and if you gotta take one for your family then take one for your family, but if you can save your family, save your family."
He added: "'Cause nobody does this for a street code, the street code today don't exist. It ain't like when I was coming up. There was real rules that real people follow and if you didn't, there was repercussions. Ain't no repercussions today, so what the fuck is a code? That code means shit. So save your family I don't give a fuck what you call it. 'Cause man, listen, at the end of the day your integrity is how you define how you are as a man."
When speaking on 6ix9ine's "snitch" reputation, Akon simply said, "he's a kid," and noted certain rumors surrounding the ongoing RICO case involving Young Thug and YSL.
"This n-gga's a kid! So you wanna tell me you gonna give him the credit for all the gangsters in the world 'cause he snitched?" Akon said. "Look what's happening now with this RICO case, I ain't gotta mention any names. But these are the same motherfuckers going after him, now look at 'em. They're doing the exact same thing that he did, why? Because they family to them right now is coming first."
Elsewhere in the interview, Akon also spoke about how he and Michael Jackson had planned to open some music schools in Africa before the Thriller hitmaker's death in 2009.
"There are a few things that we did discuss," Akon said. "One of them was we were gonna build music schools all throughout Africa," Akon revealed. "We wanted to create a music school that allowed kids to learn how to play instruments, vocal coaching, the music business, entertainment, so they don't just walk into it not knowing the education of how the business works and things like that."
He continued: "Even in Akon City in the educational district the first one will be built in there and I'm naming it after the Michael Jackson Foundation. So I'm gonna be naming it MJ University."
"Akon City" is the name of the mogul's Senegal city that he is currently building. In 2020, the singer secured $4 billion in funding from investors to begin construction on "a futuristic cryptocurrency-themed city" in his home country that would include parks, hotels, and a stadium and would be funded entirely by Akon's own digital currency "Akoin."