Akon Wishes He Never Gave Jeezy 'Soul Survivor'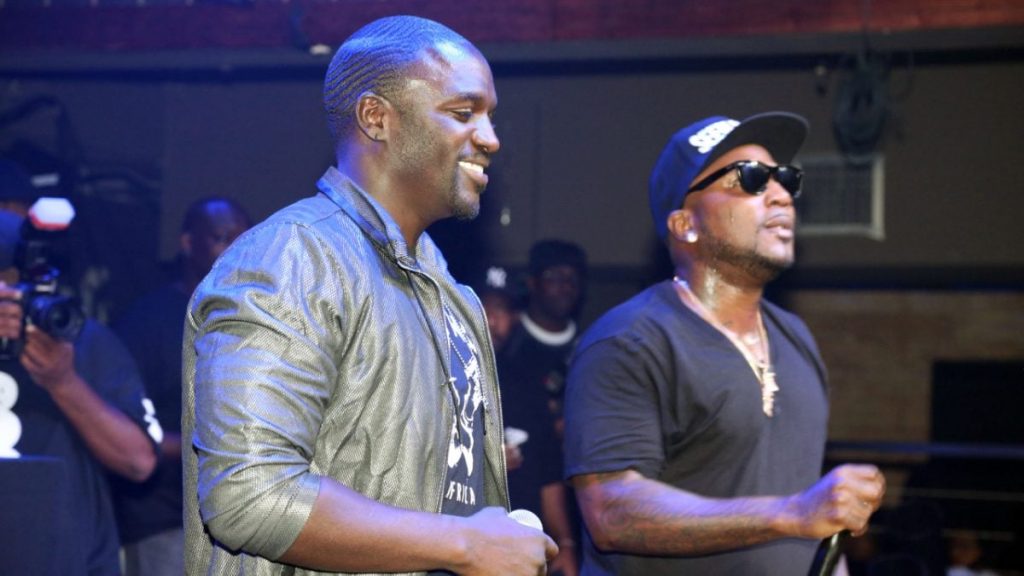 Akon has expressed regret at giving Jeezy "Soul Survivor," saying the song could have been his own hit record.
The 2005 single off Jeezy's Let's Get It: Thug Motivation 101 album peaked at No. 4 on the Billboard Hot 100 and would go on to become one of The Snowman's biggest hits. In a recent interview on Shannon Sharpe's Club Shay Shay podcast, Akon admitted he wishes he never gave the song away.
"One record that I gave away that I felt. 'Damn. I shoulda kept' was 'Soul Survivor,'" he said around the one-hour mark. "I gave it and I said, 'Man, I shoulda kept this record, God!'"
Elsewhere in the interview, Akon spoke fondly about "Soul Survivor" and said Jeezy requested the song within an hour of listening to it because he knew it was a hit.
"That's one of my favorite records as well, too," he said. "At the time, BMF was a group out of Atlanta that was just killing it, in every aspect. [Big Meech] was a really, really good friend of mine, and he said: 'Listen Kon, I got this artist man, I need your help on it. I promise man, I'm gonna look out for you however you need me, I got you.'"
He continued: "I said, 'Man, whatever just bring him.' He brought him by the studio, and Jeezy at the time was so raw. I was like, 'Bro, this kid, I don't know where you found him but he's out of here. Like, he's out of here.' So Jeezy played me his mixtape at that time and I said, 'Okay, cool.'
"So when I reached the studio, I reached back to Meech and I said, 'I got him, trust me.' I did the record … sent it to Jeezy. Soon as he heard it, he's like, 'Oh bro, this is it!' He knew, like he knew. The hour didn't pass; he sent me back the song with his lyrics already on it. I was like, 'Oh yeah, this is a monster record.'"
Akon previously spoke about his Jeezy collaboration in a 2019 interview with HipHopDX, where he elaborated further and said he found "Soul Survivor" "necessary" for Jeezy's success.
"I had just signed Young Jeezy and I was like, 'This record is necessary for him right now because he's actually in a position where he can say that," Akon said. "It will be not only believable, but he was going through it with the BMF [Black Mafia Family] movement and all stuff that was going on around us. It was like the perfect, perfect record."
He continued: "Then I was kind of diversifying more into the pop world and slowly moving away from the street records, so I felt like it was the perfect segue in through him but also out at the same time, you know what I'm saying?
"So that record was very strategic as how we put it out. At the same time, I could continue to get the street cred from the record but still be disassociated on my pop side to where it doesn't effect the record I was about to put out with Gwen Stefani [laughs]."
In other Jeezy news, the Atlanta icon is fresh off the release of his new Gangsta Grillz mixtape Snofall with DJ Drama, which dropped on October 21.