Architects Of G-Funk: Kokane + Cold 187um Say Dr. Dre + Eazy-E Beef Wasn't As 'Heavy' As Fans Thought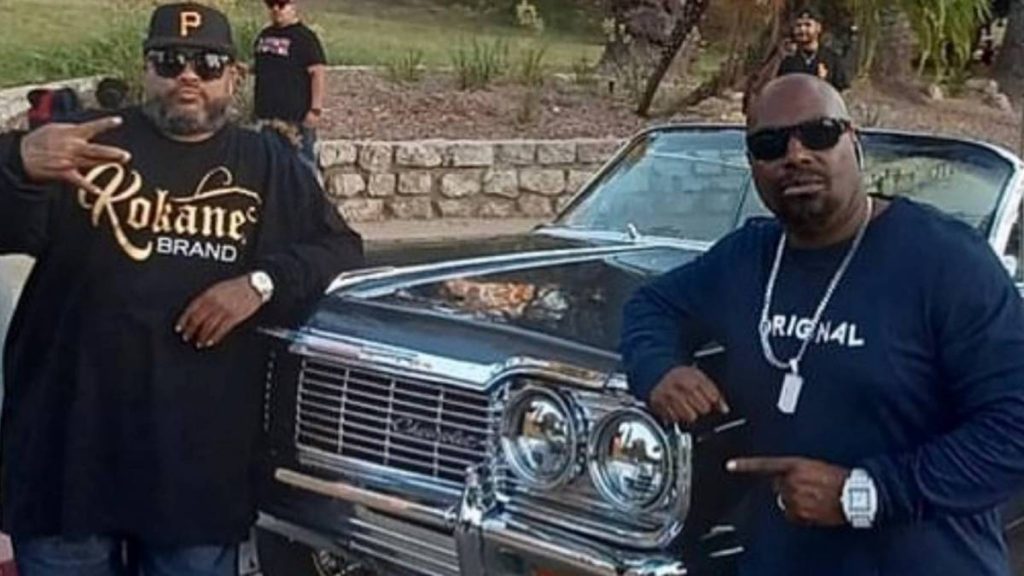 Exclusive – The Architects Of G-Funk — the new duo comprised of cousins Kokane and Above the Law founder Cold 187um — have a rich history when it comes to West Coast gangsta rap. As pioneers of the G-Funk movement, they either helped craft or contributed to a myriad of Hip Hop classics, including N.W.A's 1991 sophomore effort N-ggaz4Life and Eazy-E's 1993 solo effort It's On (Dr. Dre) 187um Killa.
Kokane alone has over 4,000 collaborations under his belt and claimed the title of the "World's Most Featured Artist" in 2018 interview with HipHopDX. As he explained at the time, "It's been a long road to become the most featured artist in the world. But to tell you the truth, when I first started in the mid-80s, I never intended to be on so many features years later.
"My dad Jerry B. Long, Sr. was an original member at Motown Records in the '60s. He wrote, arranged and orchestrated over 500 music compositions and successful music scores. It's quite ironic that I would follow in my father's footsteps years later to create my own body of work and become the most featured artist in the world with over 4,000 plus guest appearances."
As for Cold 187um – or "Big Hutch," as he's also known —he was also born into a musical family. His uncle was Motown artist Willie Hutch, who co-wrote songs that were ultimately recorded by The Jackson 5, Smokey Robinson, The Miracles and Marvin Gaye.
With a background in music, Cold 187um started off playing trumpet, piano and bass guitar. Like many other kids who grew up in the '70s and '80s, he became enthralled by Hip Hop and eventually formed Above The Law with DJ Total K-Oss, the late KMG The Illustrator and Go Mack in their hometown of Pomona, California. They signed with Ruthless Records in 1989 and the rest is history.
More than 30 years into their respective careers, The Architects of G-Funk are reveling in their latest chapter. Ahead of the release of the duo's debut album, We Have Returned, Kokane and Cold 187um had some time to discuss what to expect from the project and the beef between Eazy-E and Dr. Dre.
HipHopDX: I feel like The Architects of G-Funk should have been a group a while ago.
Cold 187um: A long time ago.
HipHopDX: What took so long? 
Cold 187um: I think one, we had been ready to do it probably like, what'd you say Koka, about five years ago?
Kokane: Yes.
Cold 187um: We wanted do the record together. Nowadays, you have people who email it in, and we didn't want to do it like that, so it took a bit for me and him to always be in the studio together to actually develop the whole concept and literally do it in real time like we done all the Above the Law and Kokane stuff. We were always in the studio together, working together. Then the pandemic hit and we couldn't do anything for two years, so that's quite a long wait. It should have came out maybe six years ago if we were doing it where me and him could just be in a studio for a six-month run, but we couldn't.
View this post on Instagram
HipHopDX: That makes sense. You both have a lot going on — Kokane, you have your label and Hutch, you have yours. When does the album drop?
Kokane: September 18, and this is a collector's edition because this is the first time Above the Law and Kokane combined to create Architects Of G-Funk, which is actually a new funk and soul Hip Hop band.
Cold187um: Yeah. It's a different fusion. It's the same, I always tell him, I was like, we were developing AOGF we wanted to be a bit of Above the Law, a bit of Kokane, but something way totally different and new, but just as funky and fly as both of them. So that's the new twist to it.
HipHopDX: What can fans expect on this album?
Kokane: Definitely some soul music, music of substance and just plain old raw, uncut G-Funk. G-Funk was definitely a mirror of P-Funk [Parliament-Funkadelic] and transcended and evolved over time — it's just worldwide. So it's a blessing at the right time that when you actually see what we were a part of, we're actually a part of helping at least three artists into the Hall of Fame. And then collectively, you see those movies coming back and it's educating three generations later, so timing is everything. And I think it's a beautiful thing that people are starting to revert back to music with instrumentation, subject matter, things of substance. And at the same time, you can shake your ass, too. It's an incredible project, and I'm glad we did our homework because me and Hutch got approached. It's better to have a slow cooked meal than McDonald's.
HipHopDX: I couldn't agree more.
Kokane: We are independent, so we control the autonomy. To exclusively get the album, you going to have to go to our site at buddyboymusic.com, but we will release the singles. All singles will be released on all the platforms.
Cold 187um: What would really be different in what me and him both collectively done, I could say with Koka, I pushed him as a producer to do something different soul-wise. We went from doing things that have a more Euro feel to a funky, more orchestrated feel because all the music is live. There's no samples. I wrote it, composed it, did everything on it. Not one noise on it is a sample. When we were developing the Architects Of G-Funk, we wanted you guys sonically to hear a band feel. So when I went into producing it, I said, "OK, if we redo records or we flip records, let's take it like an old school band would flip an old school record and turn it into their own." You'll notice a lot of that in the record too.
You won't notice the typical stuff that we have done for Above the Law, Kokane, N.W.A, the 2Pac stuff, Eazy-E, the Snoop stuff, whatever you hear, it'll sound like us, but it'll sound like a band is doing a version of us. That's the ill thing about the AOGF. That's the most illest thing that we done. And when I would say, "Koka, let's do this," and he'd be like, "OK, I want to go and do this." So we'll go in and we'll do something. But I was like, "If we going to flip this, let's make it ours." And he would come up with these clever hooks and it'll make it be like we own the record, even if we did a throwback record.
HipHopDX: You mean Kokane can do hooks? I had no idea [laughs].
Cold 187um: [Laughs] I'll tell you something else dope that he done. Three records on it, he actually sung the whole records. No hooks. I would come in on a bridge. I would come on a bridge and rap, and he would sing the whole record down. It's incredible. The range that we took with AOGF, like I said, it's the approach of if we came in and sat with musicians and did an album, but it's just composed by me and him. It's really composed by me and him.
HipHopDX: You played instruments as a kid, right? 
Cold 187um: Composer first. I studied doing that first from my uncle [Willie Hutch] and my dad [Richard Hutch]. They were writers and composers. And my other Uncle Jerry.
HipHopDX: Willie was an R&B star, right?
Cold 187um: Yeah, my uncle is. My uncle's his producer and his writer though. My uncle is the artist and my dad's the writer and the composer. Just to look, my other Uncle Jerry, who is Kokane's dad, they were writers. Our two fathers were writers and composers.
HipHopDX: You guys were essentially born to do this. I wonder if people realize just how talented you both are. 
Kokane: It's a beautiful time, especially with the information age that three generations later, their form of digging in the crates is getting on the computer. So the good thing that actually came out of the pandemic, which I wish it wasn't no pandemic, but people started really reverting back to what's on the computer and started to go back to those records, man.
Years later, when you look at a N.W.A and they said "Fuck The Police," well, nothing that's really changed, you know what I mean? So I think music of substance and music in general that resonates through the soul and vibrates at a higher vibration and moves you, I think there's no such thing as outdated music that inspires you. It's going to be around forever because those people tend to get remembered as opposed to the "in the moment" or fad stuff. And we have never checked into N.W.A or checked in with Eazy-E. Their interest in us wasn't just based on a fad. No. It was more like the sound. The sound is different from the N.W.A sound, but it's all dope and there ain't no substitution for dope.
Kokane: It's amazing not only to see people our age and the youngsters starting to come back and say, "Man, I love "Black Superman." Man, I love the stuff you did on the intro Above the Law" or with N.W.A, because I seen the Straight Outta Compton movies. I've seen those gentlemen inducted to the Hall of Fame, and now we get a chance over 30 years later for the mystique to be cracked wide open. And it couldn't have been at a better time because the youngsters need to really see the OGs do their thing. It's hard to transcend in this game. You look at cats like E-40, of course Snoop, Dre, Too $hort, and we have been fortunate, me and my cousin, to stay relevant but also educate the people who are really intrigued with this G-Funk movement.
HipHopDX: Plus, you got to respect the architects. I mean, no pun intended, but that is seriously one of my missions is to make sure you guys get your recognition, the respect and credit you deserve. So Megan Thee Stallion used an Eazy-E song for "Girls in the Hood." We're seeing a lot of younger artists sample the OGs. How do you feel about that? 
Cold 187um: Creatively, I think it's dope because it's what we did in the early days with sampling Parliament, the Willie Hutches, James Brown, The Ohio Players — I think it's like that. I think it's a paying homage thing, especially when you sample Eazy-E or something. I think that's incredible because we both feel he doesn't get the credit he deserves as an iconic player in this. So it's always awesome to hear Eazy just on a new record, you know what I mean? So for us, that's amazing just to hear them even want to do anything that's from our era, flip it and turn it into something new. It lets you know that our era is the era that really, really resonated with a lot of different cultures and timeframes. Because if you look at it, that's all they're doing. A lot of new artists, and when they want to flip something and get heavy with it, they always flip our era. The hip records that are out now, a lot of them are flipping the 90s and late 80s records.

HipHopDX: Someone flipped J.J Fad's "Supersonic." 
Cold 187um: Two people did. Fergie did and somebody else just recently did it. It's always the late '80s or up to the mid-90s that they're flipping. I heard somebody flipping Bone Thugs stuff. I heard somebody flip all kinds of stuff, it's crazy.
HipHopDX: I mean, it was the best fucking era. I'm not even going to skirt around that. That's what I grew up on, especially The Chronic. I don't think people realize how integral you guys were in this movement. I want to talk about the Dre diss record you did with Eazy-E, "Real Muthaphuckkin G's." To this day, I think it's one of the hardest rap songs I've ever heard. What was that climate like during that time? 
Cold 187um: Well, it really was Eric's [Eazy-E] beef. It wasn't ours. I mean, the camp really stood down, because Eazy-E was like that. He said he could handle his own battle. I was the supervisor on the record. I honestly felt like he had to say something just because who he was. I didn't know it was going to be heavy as "Real Muthaphuckking G's." I didn't know it was going to be that heavy. When he went in and done "Real Muthaphuccking G's," I was like, "This going go, this going to be crazy."
Kokane: With Dre's new sound, so Dre had been learning.
Cold 187um: When they went in and did the record, I didn't hear it until me and Eric got ready to put the whole record together totally. I knew we was going to do it because he kept telling me. "I'm going to talk about this and I'm going to talk about this and that." He said it in super detail. Yeah. I was like, "OK, cool. So we can put the record together?" I said, "Man, you sure?" He's like, "Yeah, I'm going to do it." And so we shot both those videos and I was like, "Whoa." And when that dropped, I was like, "OK. This is serious now." The good thing about Eric was Eric was a jokester. So we work more on the funny, spoof type of thing but serious, you know what I mean? Because he was a jokester, so he more was clowning and he had BG Knocc Out and Dresta come in and just kill it.
HipHopDX: That was a moment. 
Cold 187um: That's a vibe. That's a vibe. But the climate really wasn't as heavy as people try to make it. It wasn't beef like that. We come from that era where if you look at like when Ice Cube left N.W.A, it was just a speed bump like, "Oh, whatever, whatever." I think when Dre left the camp and the whole thing and N.W.A broke up, the climate was like, "OK, we gotta move on" and "We got to always make sure that we stand 10 toes down." That's how Eric was; "What we standing for? If it's Ruthless, we going to stand on that and this is how we going to move." That's how he handled that. It wasn't like, "Oh, let's go get somebody." It was like, "OK, I'm going to respond and keep it moving."
HipHopDX: That's Hip Hop, right?
Cold 187um: Yeah, for him it's business. He stuck to the script. He didn't get into anything else. And "Dre Day" only made Eazy's payday, which is true.
HipHopDX: I like how you said Eazy was a jokester. I was interviewing The D.O.C. a couple months back for The DOC documentary, and there's a scene where they're in the hotel and pretending to be Jerry Heller and Cube. 
Cold 187um: Right [laughs]. Yeah, yeah, yeah, yeah, yeah.
HipHopDX: And they're just playing around, having fun. 
Cold 187um: There's nothing but jokesters in the whole camp. Eazy was the biggest jokester.
Kokane: And that's how far they took it. Yeah. It was some extreme things that happened on both sides when Death Row and Ruthless was at it, but it didn't take it to the point to where if Eazy would see Dr. Dre in traffic in Calabasas, they would pop each other. They wouldn't be popping at each other. That's one thing that made Eric special and Dre special is that you could only take it so far because this is an entertainment business. And I think one of the things that people are starting to wake up from is that they're starting to really put aside some of the violence that has really been perpetuated.
And it's a norm now that when you get millions, you supposed to walk backward and continue to perpetuate a lifestyle that Eazy would never accept because me and Hutch always talk about this shit. It's like Eazy was so controversial, he said, "I don't care where you come from. Everybody come from somewhere, but don't bring that shit to the table because we sell records to Bloods, we sell records to Crips." Our best teacher … I consider Eazy the West Coast Russell Simmons, and that played out to this day. We were very adamant on, "Hey man, where we came from is where we came from, but where we going is totally different."
Cold 187um: And the thing about us in that era, you have to realize we were all brothers. So whatever happened was business. It wasn't like we was never going to do anything to anybody physically. Dre's our brother. He was our brother. We came up from nothing with those guys, you know what I mean? We were kids hustling in the streets. The money destroyed all of us being a family in a unit, the money did. Greed, drama, people feeling they deserve more. Like Koke was saying, it was never no physical thing. Because we all lived around each other, we all still did everything around each other.
HipHopDX: You're in the same circle so you're going to see each other, yeah. 
Cold 187um: Yeah, we're going to see each other. So we all stayed friends, but I think that people thought it got a little heavy because when they hear stuff, it's like, "Well wait a minute, it's not like somebody stole $100,000 of street money." It's like, we can always come back from this.
HipHopDX: Cube wasn't happy with his contract, that was clear. But no, I'm glad you clarified that. It did seem like, "They're beefing and going to kill each other." 
Kokane: Well, there was some altercations, but not to the point where they want to shoot up your granny house, shoot three kids and shoot this rapper.
Cold 187um: Yeah, it wasn't that.
The Architects Of G-Funk released one of the first singles from the album, "The Boogieman," in July. We Have Returned is expected to arrive on September 18. Check back with HipHopDX later this week for Part II of The Architects Of G-Funk interview.