Black Star Announce Surprise NYC Concert After 'SNL' Appearance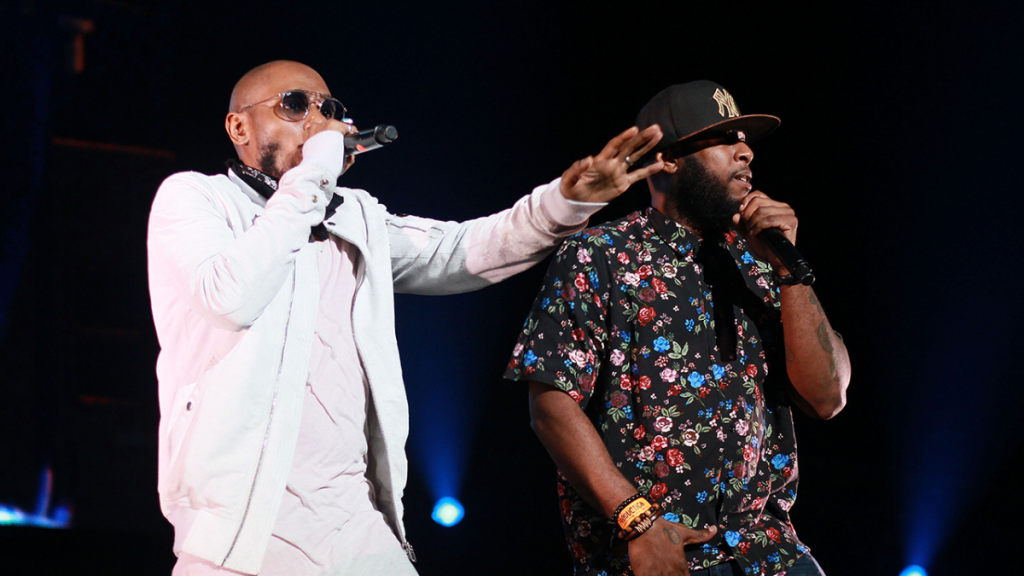 New York, NY –
Black Star have announced a surprise concert this weekend to extend their New York City showcase.
After serving as this weekend's Saturday Night Live musical guests alongside the episode's host and legendary comedian Dave Chappelle, Talib Kweli and Yasiin Bey (formerly known as Mos Def) will be taking their talents to Manhattan's Sony Hall.
The intimate show is set for Tuesday night (November 15) but will go deep into the night as Black Star's performance is slated to begin around midnight ET.
Tickets to the last-minute show are now available with general admission going for $85 while VIP seats will cost fans about $108.
next week's show! pic.twitter.com/yyWCsszXDw

— Saturday Night Live – SNL (@nbcsnl) November 6, 2022
Long-time friends and collaborators, Chappelle and Black Star are renowned for their sharp cultural criticism and unfiltered political views, a main ingredient of the Midnight Miracle podcast they launched last year.
The "Definition" rappers appeared in an SNL commercial earlier this week, where the duo broke character and couldn't contain their laughter with Chappelle cracking jokes to their left.
"I'll be hosting SNL with musical guest Black Star on an episode that's so Black it's gonna be on BET," DC said which drew a chuckle from Black Star. "Just kidding, it's going to be right here on NBC. See you Saturday."
Take a look at Black Star and Chappelle's SNL promo below:
View this post on Instagram
Dave Chappelle previously hosted the show following Donald Trump's upset victory in the 2016 presidential election, delivering a heavy-hearted yet typically humorous speech to the nation.
On the music side, Black Star served up a fiery assist for Westside Gunn's "Peppas," which landed on his Hitler Wears Hermes 10 album.
Kweli and Bey returned to the mic to unleash their long-awaited No Fear of Time album in May. The LP served as the duo's first full-length project since 1998.
Meanwhile, Yasiin Bey has repurposed Kanye West's controversial "White Lives Matter" t-shirt with the help of Spanish-Moroccan artist Anuar Khalifi.
Earlier this month, the "Umi Says" rapper shared a collaborative Instagram post with Khalifi in which Bey first appears with his back turned to the camera. Printed on the back of his long-sleeved shirt is Ye's now infamous reimagining of the Black Lives Matter slogan in white with the letter "v" appearing in Black, thus spelling "White Lies Matter."
The photo set includes Bey — who's worked with Kanye on numerous songs and was previously signed to his G.O.O.D. Music label — modeling the back of the shirt in white before showing off the front of the shirt, which bears a photo of Georg Hegel with his eyes covered by a black bar.
The German philosopher is best know for having defined the Hegelian Dialectic, the philosophy that the contradiction between a concept and its antithesis (or opposite concept) can be resolved by a higher level of truth.