Fivio Foreign Teams Up With Eli Manning & Shaun O'Hara For '1 On 3' NY Giants Remix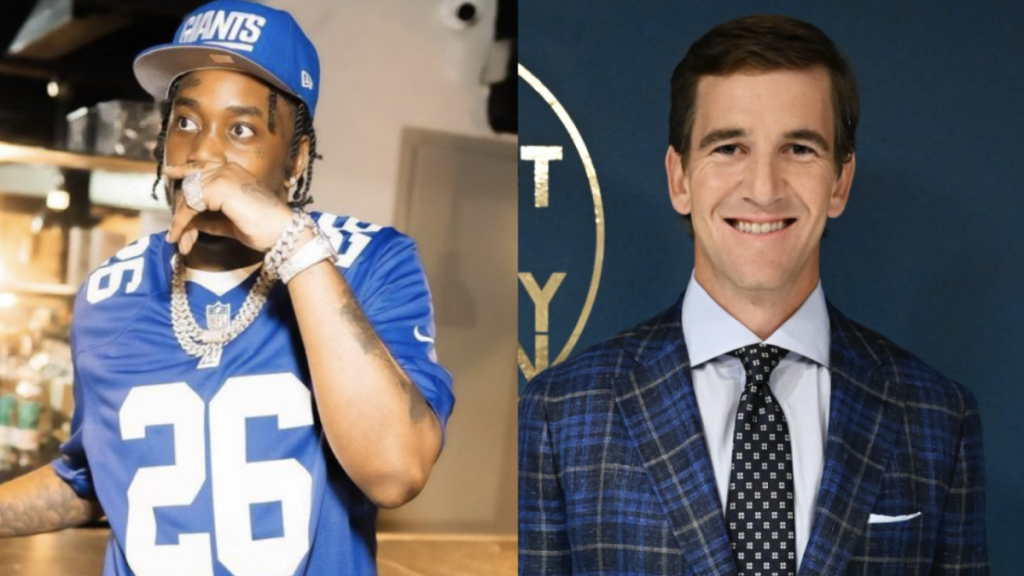 Fivio Foreign has released a new single and he's tapped Super Bowl champions Eli Manning and Shaun O'Hara to help him promote it.
On Thursday (November 10), Fivio and the New York Giants shared a video of the meet-up between the rapper and former football players at a studio as part of Eli's Extras YouTube series. The video opens with Manning and O'Hara being greeted by a woman on Fivio's team in his studio.
She tells the duo that Fivio has been looking forward to working with them, but they needed to dress the part. Eli Manning and Shaun O'Hara ended up wearing several high-end pieces before finally meeting with the "Big Drip" rapper.
Once inside the studio, Eli and Shaun are blessed by Fivio with a set of iced-out chains, and they waste no time getting some rhymes off on the instrumental to the Brooklyn native's new track "1 On 3."
This "1 On 3" remix is fiiiiire 🔥

Watch: https://t.co/9F9obe2ASu pic.twitter.com/7h0cbKX7mB

— New York Giants (@Giants) November 10, 2022
"Home is in the studio, fresh off the set/ New York Hip Hoppers, the latest threat/ Listen to our music, ladies and gents/ We're getting ready to kick it, here's 60 cent," Eli raps in the video.
O'Hara tags himself in with an equally funny verse rapping: "On the show, I'm your co-host Shaun/ But out on the streets I'm not your sidekick pawn/ High pitch, low pitch give it some torque/ Passing the mic to the King of New York."
Fivio then hops on the mic to drop his verse as Eli and Shaun attempt to get sturdy and party with the rapper's entourage in the studio.
"We can do it one on one or we can do it one on three/ You don't gotta ask my team cause it's NYC/ Keep it lit on the field and I keep it lit on the streets/ You already know who we are, Shaun, Eli and me," Fivio raps.
The video was intended to promote Fivio Foreign's new single "1 On 3" featuring Rvssian, which was released on Friday (November 11). The track also came with an official music video that finds Fivio and Rvssian turning up in a warehouse with their team.
The song comes after Fivio Foreign dropped his freestyle to DJ Khaled's hit single "GOD DID" featuring Rick Ross, Lil Wayne and JAY-Z back in September.