Boosie Badazz Urges Black People To Boycott Jeffrey Dahmer Series: 'It's Sick'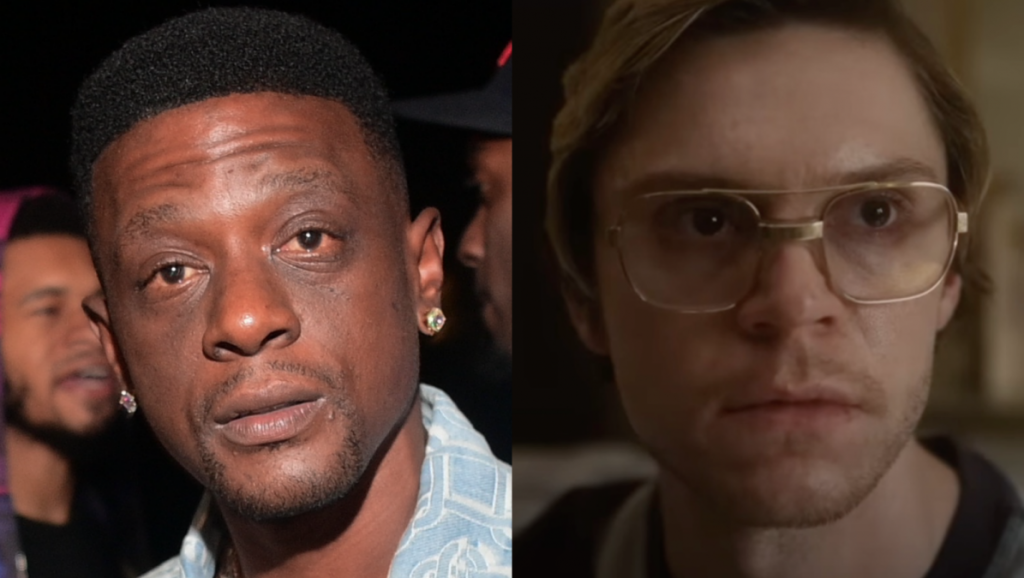 Boosie Badazz has joined the growing number of online commentators speaking out against Netflix's limited series Monster: The Jeffrey Dahmer Story.
The docu-drama premiered on the streaming platform on September 21, boasting a star-studded cast, including Evan Peters as Dahmer; Molly Ringwald as his mother; and Niecy Nash as Glenda Cleveland, the woman whose calls to police eventually led to Dahmer's arrest.
However, the show was very quickly met with backlash as this version of Dahmer's story — the third fictionalized account to be released since 2002 — is the first to truly delve into Cleveland's story, thus shining a light on the role systemic racism played in masking the serial killer's criminal activity.
According to Buzzfeed, despite breaking the record for the biggest series debut on Netflix, with 196.2 million hours viewed in its first week, many viewers have accused Monster of romanticizing Dahmer's story. The public outcry increased when Rita Isbel, the sister of one of his victims, penned a column for Insider in which she denounced the latest representation of her brother's killer.
Isbel said that watching actress DaShawn Barnes' convincing recreation of the moments in which she delivered her victim impact statement at Dahmer's sentencing in 1992 was more than she could bear.
"That's why it felt like reliving it all over again," she writes. "It brought back all the emotions I was feeling back then. I was never contacted about the show. I feel like Netflix should've asked if we mind or how we felt about making it. They didn't ask me anything. They just did it.
"I could even understand it if they gave some of the money to the victims' children," Isbel continues. "Not necessarily their families. I mean, I'm old. I'm very, very comfortable. But the victims have children and grandchildren. If the show benefited them in some way, it wouldn't feel so harsh and careless."
Isbel's essay and a tweet from her cousin Eric Perry which also decried the series, only served to increase online complaints about the show. And on Thursday (September 29), Boosie shared his opinion about the series with his fans.
AS BLACK PEOPLE WE SHOULD BOYCOTT THE JEFFERY DAHMER MOVIE ‼️WHAT HE DID TO OUR BLACK KIDS IS FUCKING SICK #NETFLIX TAKE THIS MOVIE DOWN ITS SICK

— Boosie BadAzz (@BOOSIEOFFICIAL) September 29, 2022
AS BLACK PEOPLE WE SHOULD BOYCOTT THE JEFFREY DAHMER MOVIE !! WHAT HE DID TO OUR BLACK KIDS IS FUCKING SICK," Boosie tweeted. "#NETFLIX TAKE THIS MOVIE DOWN ITS SICK."
The tweet was liked over 3,000 times and retweeted over 1,000 times, indicating that many of his fans supported the statement. Yet some used the opportunity to call the Louisiana rap veteran out about what they perceived as hypocrisy in his statement.
"Unfortunately you don't get too have opinions like this when you got music about killing just as many n-ggas as he actually killed," wrote one Twitter user. "Should we boycott your music or most of these other rappers as they are possibly influencing our youth into bad and sick behavior?," another comment read.
While he didn't respond to any of the pushback, Boosie returned online a few hours later to address the lack of compensation to the victims' families and once again urging fans to take action against the show.
"Us as Blacks, we need to ban this Jeffrey Dahmer movie," he said in a clip. "This is some sick shit, what he did to our race. We need to boycott this damn movie off Netflix. The victim families should be getting paid off of every dollar Netflix make."
Boosie is no stranger to sharing his opinions online. Earlier this month, he used the platform to issue a warning to his fellow Hip Hop artists in the wake of PnB Rock's murder.
"Every time u n LA KEEP YOUR GUNS N YOUR FINGER ON THE TRIGGER!!" Boosie tweeted on September 13. "BE READY TO SHOOT AT ALL TIMES!! KEEP YOUR HAND ON YOUR GLOCK (no safety) N SHOOT SOON AS YOU SEE HARM R ANYONE SUSPICIOUS!! They will rob n kill u ITS THE RAP MURDER CAPITAL #LA tip:to everyone lost they life n LA."