Cardi B Shuts Down Claim She's Trying To Boost Streams Of Upcoming Album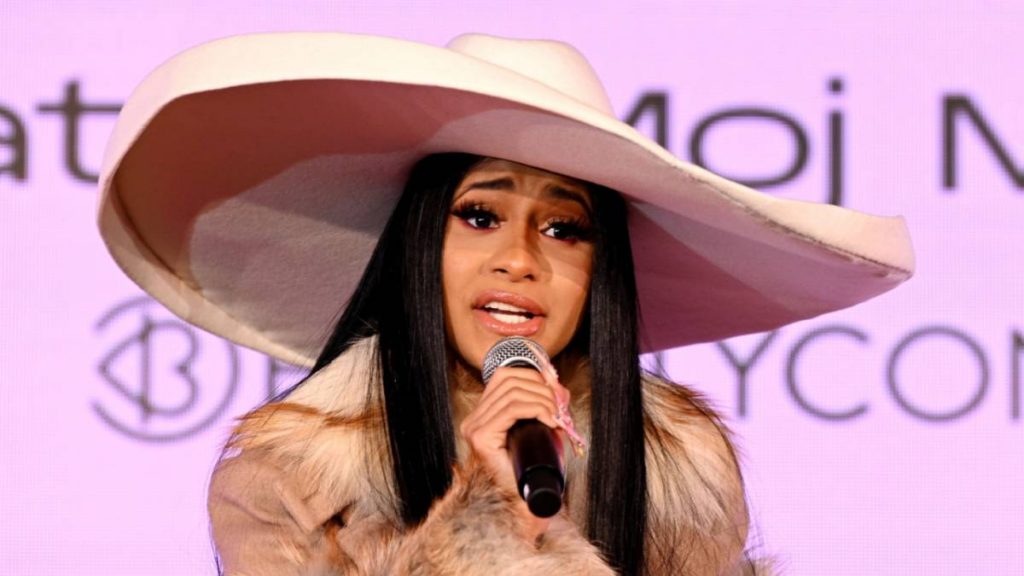 Cardi B's sophomore album sparked a social media scuffle over the weekend — before its release is even in sight.
The Bronx bombshell confirmed during an appearance on CENTERFOLD — the digital platform she launched with Playboy last December — that her hit singles "WAP" and "Up" will appear on her Invasion of Privacy follow-up, despite both being more than a year old.
One Twitter user took issue with the news and claimed such a decision is designed solely to pad streaming stats. "I blame the streaming era," the fan wrote. "Artists just do this to get certifications for their album. I don't like it."
The Megan Thee Stallion-assisted "WAP" has sold over seven million units since its August 2020 release, while last year's "Up" was certified double platinum in just over sixth months.
Per current rules, these singles won't count toward the first-week sales of Cardi B's new album, but they will factor into the album's total units and any plaques earned from the Recording Industry Association of America (RIAA).
After facing an onslaught of backlash from Cardi B's fervent fanbase, known as the Bardi Gang, the fan clarified his critique was aimed at all artists, not just Cardi, before deleting his original tweet.
"I deleted that damn tweet cuz I fr was not trying to start a stan war," he wrote. "I hate being in the middle of those. That was not, I repeat, WAS NOT, a shot or a hate tweet at Cardi. It was a critique of the music industry and how it affects track listing."
He added, "Real talk, I've been thinking about this. If I'm going to subject myself to scrutiny over my opinions as a content creator I'd rather do it over something more important than petty music conversations."
The fan, who runs a music reaction channel on YouTube, also pointed out he's criticized other artists like Drake, Kendrick Lamar and Baby Keem for the same thing.
However, that didn't stop Cardi B from weighing in on the debate with some choice words of her own as she defended her decision to include "Up" and "WAP" on the tracklist for her forthcoming LP.
"Stop trying to act innocent when u know u was trying to pander," she clapped back. "Why haven't you said nothing about other artists who recently put songs b4 the pandemic on their album or people that have to put other people songs on their shit ..Imagine my biggest song not being on a album.
"One more thing my first album I did not had CDs,Merch or bundles just straight fire ….and I had a amazing debut and gave a song that became DIAMOND from it ….Fuck you talking about …wash your tongue correctly b4 you talk about who needs streams in this bitch !"
View this post on Instagram
This isn't the first spot of controversy surrounding Cardi B's aforementioned singles. In spite of its huge commercial success, "WAP" sparked outrage among conservative critics — and even other rappers — for its unapologetically raunchy lyrics and visuals. Cardi and Megan's performance of the song at the 2021 Grammy Awards drew over 1,000 complaints to the FCC (Federal Communications Commission).
"Up," meanwhile, was at the center of a plagiarism dispute when New Jersey rappers Mir Fontane and Mir Pesos claimed the chart-topping track lifted its hook from their single "Stuck," which was released months earlier. Cardi denied the accusations, saying the hook ("If it's up, then it's up, then it's up, then it's stuck") is simply a "popular phrase."
As for Cardi B's long-awaited new album, there's still no word on a release date. Fans were given hope last February when the mother-of-two revealed she has "like 50 songs recorded," but last month she admitted multiple "technical difficulties" have delayed the project.