Pusha T Credits Pharrell With Kickstarting His Career: 'You Taught Me Everything'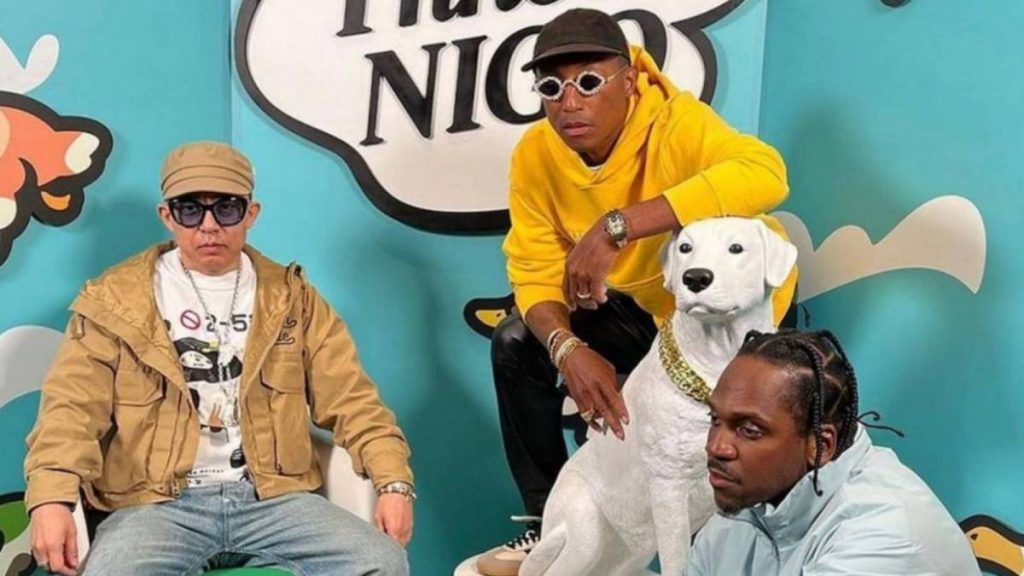 Los Angeles, CA – It was a family affair at Pusha T's show at the Novo in Los Angeles for his Its Almost Dry Tour on Saturday night (June 4). In a clip captured by DROPSMEDIA, the G.O.O.D. Music president welcomed his longtime collaborator and mentor Pharrell Williams to the stage and praised the multi-platinum, Grammy Award-winning producer for his guidance throughout his career.
"Without Pharrell, there is no It's Almost Dry," Pusha T said in part. "He brought a whole different dynamic to my album, man. I love you, bro, for everything, always. You brought me in this game, you taught me everything! Everything! Clothes, dressing, what you want? You did it. Real shit, no lie."
While obliging the high remarks he received from his fellow Virginia native, whom he met in high school along with Neptunes member Chad Hugo, Pharrell also gave King Push his flowers and congratulated the tenured MC on earning his first Billboard 200 No. 1 with his latest LP.
"Man, I am just so proud of my brother," Pharrell began. "He's been doing this for over 20 years. Number one album in the country. Everybody has been talking about it, y'all know this is the best one. Thank you for being so supportive all these years. And you gotta know when it comes to real masterpieces, when you know you really got one, that's the thing you say, 'its almost dry.'"
View this post on Instagram
While Pharrell didn't specifically name names, the "Happy" creator was seemingly offering his two cents on who's winning the ongoing debate for the two-pronged title of the best rapper of the year and album of the year, which has Pusha T going up against artists such as Kendrick Lamar, J. Cole, Kodak Black, Jack Harlow and more.
There's obviously some serious merit behind Pharrell's claims considering the former Clipse lyricist also landed in the rankings of veteran journalist and Complex Brackets host Brian "B.Dot" Miller's list of top rappers in 2022 at No. 2, right behind Kendrick Lamar.
Pusha T actually addressed the rankings on his Instagram Stories, writing, "I'm not mad @bdottm… We only 6 months in, let's fight… #ItsAlmostDry RAOTY easy…"
The pair of Hip Hop titans performed a myriad of their collaborations during Pharrell's appearance, including their anthemic "Neck & Wrist" track featuring JAY-Z.
.@PUSHA_T brought out @Pharrell as a special guest ? pic.twitter.com/990JxsNxfb

— HipHopDX (@HipHopDX) June 5, 2022
As the Neptunes, Pharrell and Chad Hugo notoriously conquered the production of the Clipse's classic albums Lord Willin (2002) and Hell Hath No Fury (2006).
More than two decades after initiating their creative relationship, the bond Pusha T and Skateboard P share is more dynamic than ever and bleeds through on the Pharrell-helmed tracks from King Push's 12-song project such as "Brambleton," "Call My Bluff" and "Let the Smokers Shine the Coupes."
Revisit the stream for Pusha T's It's Almost Dry below.