Chrisean Rock Says She's 'Single' After Blueface Caught In Bed With Another Woman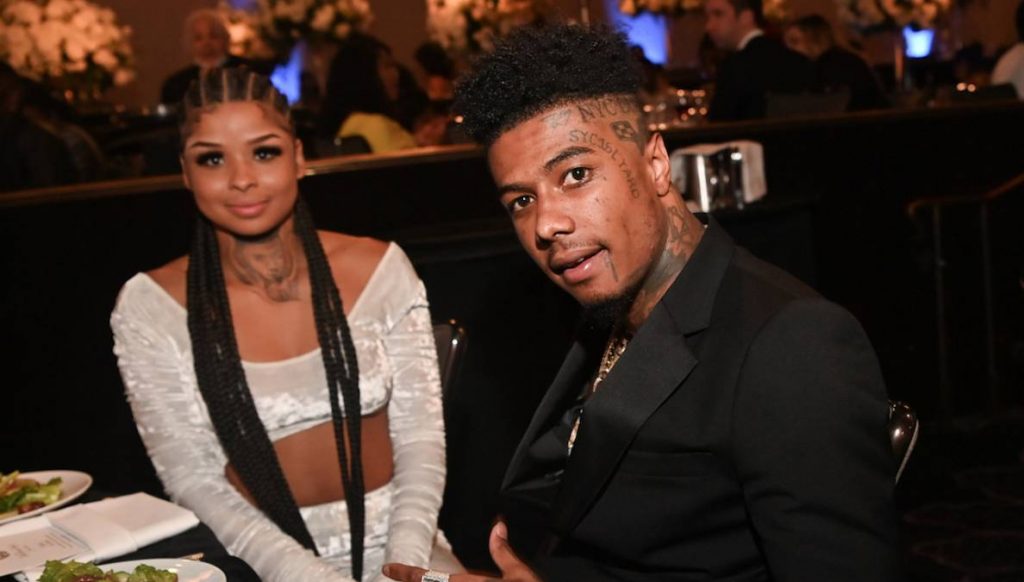 Chrisean Rock has declared herself single after Blueface was caught in bed with another woman.
The duo's tumultuous relationship has made numerous headlines these past few months, but Rock took to Twitter to tell her followers that it's all over now because of the "Thotiana" rapper's infidelity.
"Y'all can have him. Chrisean Rock is single. Chrisean you are enough," she wrote on Twitter.
Blueface responded with a tweet of his own, writing: "I ain't never been single I always kept a couple."
Y'all can have him . ChriseanRock is single. Chrisean you are enough ???‍♀️

— ChriseanRock (@ChriseanMalone) October 2, 2022
I ain't never been single I always kept a couple

— blueface (@bluefacebleedem) October 3, 2022
This latest development comes after Blueface was spotted in a video with another woman laying in bed twiddling tongues. The video was presumably seen by Chrisean, who took to Instagram Live to say she confronted Blueface and that she "almost went to jail" because of the fight that transpired. She also claimed to be holding his phone, which proved he had been cheating.
"I broke everything in my hotel room, in front of everybody," she can be heard saying. "I broke the TV, the window. He had to run from that hotel to another one."
The woman seen in the video with Blueface shared her side of the story on IG Live as well, saying she simply DMed the California rapper and that was all it took for him to initiate a meet-up.
"I just DMed him one time and was like, 'I'm trying to be on Blue Girls Club,'" she said, referring to Blueface's reality TV series. "That was it. That's how it happened. Just like that."
The saga of Blueface and Chrisean Rock had gotten pretty tense in recent months. The pair had just made their relationship official on August 10, despite having been seen together in public numerous times over the previous few months, but those public encounters haven't been so great.
On August 1, the couple got into a physical altercation while strolling down a Hollywood street, which was captured on video. Instances of reported violence continued to pop up during their time together, including a fight so bad it resulted in a broken bathroom door and a chunk of hair missing from Chrisean Rock's head.

Blueface took to his Instagram Story on August 18 to showcase his partner's new bald spot on the back of her head. "She tried to run," Blueface can be heard saying.
"Don't show them my bald spot. Why do you wanna show people what you did to me?" Rock asks in reply, to which Blueface reiterates: "I didn't do that to you, you tried to run."
"Yeah, cause I had your phone," Rock says. "You didn't even want me to see what was in your phone."
Fans expressed concern over the social media footage, with many saying the couple were clearly toxic for each other, but Blueface's mother Karlissa Saffold chimed in to accuse Chrisean Rock of lying. She said Rock's injury had resulted from being jumped by a group of girls earlier in the week.
"Jonathan did not pull her hair out," Saffold wrote on her IG Story. "Them girls who jumped her did. Y'all going too far with this fairytale. And those believing this is even more delusional then them, but carry on."
Chrisean Rock then took to Twitter to share her own feelings on the matter, and while she didn't necessarily deny Blueface was responsible for her hair loss, she said those concerned should settle down since the hair would grow back anyway.
"Tht bald spot ain't shit fr nobody hurt about a patch of hair," she wrote. "It'll grow back…Blueface is the best person in the world. I really don't trust anyone but him."
A fan chimed in to say that the "vibe" rapper should get out of the relationship while she "still has hair." "Nobody wanna leave somebody but sh*t you gonna die for him? He ain't about to die for you," the fan wrote.
"Girl stop believing the internet" Rock replied. "N yes I'll die for him shit ain't even like what y'all think."