Conway The Machine's Dreams Of Dr. Dre Studio Session Come True With Kanye West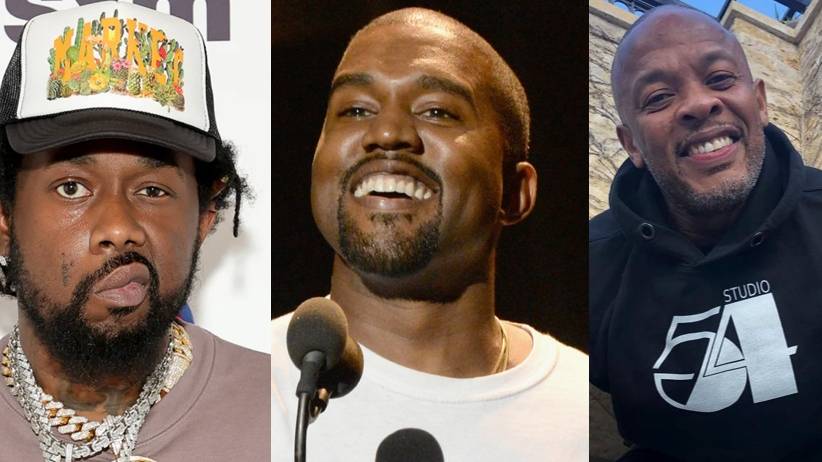 Conway The Machine has linked up with Kanye West and Dr. Dre for a studio session, and he's proudly showing it off on social media.
On Tuesday (August 30), Conway posted an Instagram photo that shows Dre at the mixing board and Kanye looking at his phone. Meanwhile, the Griselda rapper has a blunt in his hand and appears to be comfortable in his surroundings, if not a little in awe. He wrote in the caption: "Spooky!"
It looks like Conway The Machine's long-awaited dream has finally come true. Speaking to HipHopDX in March, the Buffalo native was confident a collaboration with the Doctor would eventually materialize, especially with co-signs from everyone such as JAY-Z and Eminem to Nas and Lil Wayne.
"I hope we get to work together," he said at the time. "I would love to. I'm sure we will, you know what I mean? I'm sure we will."
View this post on Instagram
The studio session follows the cancelation of Conway The Machine's I'll Tell You Later Tour, which was supposed to begin on September 6 in Seattle, Washington. The Griselda rapper broke the news to his fans on Friday (August 26) with an Instagram post but didn't provide any further detail.
"Well, the bad news is the tour is canceled," he wrote in the caption. "The good news is my pack has finally landed and you all will be getting your merch that you ordered any day now."
Theories were rampant in the comment section — anywhere from ticket sales were too low to bad booking. But the most Conway offered was a shrugging emoji. DX reached out to Conway's team and was told he prefered not to comment.
Dr. Dre and Kanye West appeared on DJ Khaled's Instagram earlier this week when the decorated producer shared a clip of the accomplished duo working on the song "Use This Gospel" from his latest album GOD DID.
"PRODUCED BY DR DRE MY IDOL," he wrote in the caption. "KANYE AND EMINEM This is a BIG blessing for me, but also a BIG blessing for the world. GOD DID!! THIS A GIFT. DRE DID!! YE DID! EMINEM DID!!
"#FANLUV I appreciate all the love and support but I need you to understand this is dream come true!! GOD DID!! G O D DID!! @drdre THANK YOU! @kanyewest THANK YOU!! @eminem THANK YOU!!"
View this post on Instagram
"Use This Gospel" is a Dr. Dre remix of Kanye's original song of the same name. The track was initially expected to arrive on the revamp of Ye's 2019 album Jesus Is King, but the project never came to fruition. Speaking to Apple Music in a recent interview, Khaled explained how the whole thing came together.
"I called Kanye one day and I said, 'I got an idea,'" he recalled. "It's 8 in the morning, he just showed up to my house. I didn't even know he was coming. He tells the chef to make some eggs with ketchup, and he had a drink. We go to my studio. I play him music. He plays me music. We both inspiring each other.
"He plays me an incredible album that he did with one of my idols, Dr. Dre. He played it from top to bottom for me. I couldn't believe what I was hearing. We had a great get together at the crib, he leaves.
"That was a year and a half ago. I said I got an idea I remember you playing me this Dr. Dre, Eminem, Kanye record and y'all were talking about God. Y'all were speaking that gospel. I said that would be beautiful if we could put that on GOD DID. And yeah, hits back and says, 'I love the idea.' Ye don't love no idea."
Earlier this week, Khaled shut down a couple of streets in Yonkers, New York in order to direct a music video for "Jadakiss Interlude" starring The LOX rapper himself.