Dame Dash On Kanye West's Recent Behavior: 'It's Painful To Watch'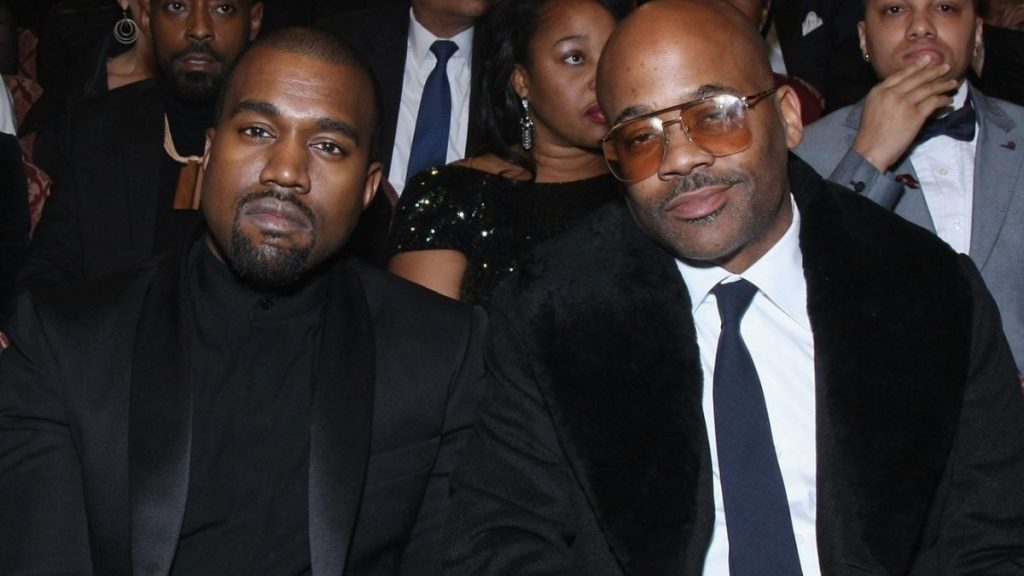 Dame Dash has once again weighed in on Kanye West's recent behavior which has led to the rapper and producer receiving a mountain of public backlash.
Ye came under fire in October after making a series of anti-Semitic statements on social media and in various interviews — most notably his controversial Drink Champs chat. He also caused an uproar when he wore a "White Lives Matter" t-shirt during Paris Fashion Week.
The fallout has led to many of the companies he's partnered with in the past to severe ties from him, including Balenciaga, Vogue, Def Jam, and adidas. Being dropped by the latter caused his net worth to take a significant hit. According to Forbes, Ye's $1.9 billion fortune plummeted to a reported $400 million.
Dame Dash has now commented on his friend and former artist's situation, telling a group of burgeoning entrepreneurs that being in contact with Ye at the moment is "draining" and that people should be more concerned with his health than what he says.
"You think big brother turns off?" Dash said in footage captured by AllHipHop, answering a question about whether he can see himself being a big brother and guiding Kanye through his current situation. "Yeah, I'm in contact with him; it's draining. But, you know, he's bipolar. People forget that. I don't care how rich you are, if you have a chemical imbalance, you're gonna say some crazy things.
"Anybody know someone bipolar? You don't put them in front of a camera, you put them in a house or a hospital … you say the most outlandish things when you're triggered and there's a chemical imbalance, and also when you're tired. It's like being drunk. But, you know, I know him. And yeah, I do talk to him and I try. It's painful to watch because someone with bipolar with a billion and a whole bunch of people that don't care, it's not a good formula."
View this post on Instagram
The Roc-A-Fella Records co-founder made the comments when he appeared as a special guest at Young Entrepreneurz Solutions' 'YES National Business Plan Challenge' in St. Croix this week, where he screened his new film Prince of Detroit.
Dash continued: "People should be more worried about his health than worried about what he says. He already admitted that he was bipolar, he's been in a straitjacket in front of errbody. Why do you listen to somebody bipolar if the tell you they bipolar?
"Before he says stuff that's, like, triggering, he premises it with like, 'I'm tired.' You know what it takes for Kanye to say he tired, he got to be damn near be hallucinating. He don't sleep. I'ma tell you. So you know, he going through it. But I'm more mad at everybody that's just not worried about his health. A man tell you he's sick and then he start acting sick, 'cause he's rich y'all listen to him as if he's not. That's that. But it's sad what's going on."
It's not the first time Dame Dash has commented on Kanye West's recent outbursts. Last month, he shared similar sentiments when he was a guest on Kick Game's sneaker shopping series.
"He's my brother," he began. "[We don't talk] constantly – when he needs me and when I'm worried about him. What you think? I'm worried about him. N-gga, can I ask you a question? Is he bipolar or not, did he tell you that? So if you checked off the boxes of bipolar, is he acting that? So then leave it at that."
He went on: "Worry about his health if you care about him at all. I'm just saying, man, regardless to what he's saying, it's the way he's saying it. I don't care what he's saying, I want him to live. Y'all worried about the wrong shit.
"If you know a man has a problem and you know he might be checking the boxes off for the symptoms of that problem, why do you judge him as if he doesn't have a problem? It's not logical."