Drake Gets Roasted For New Bedtime Selfie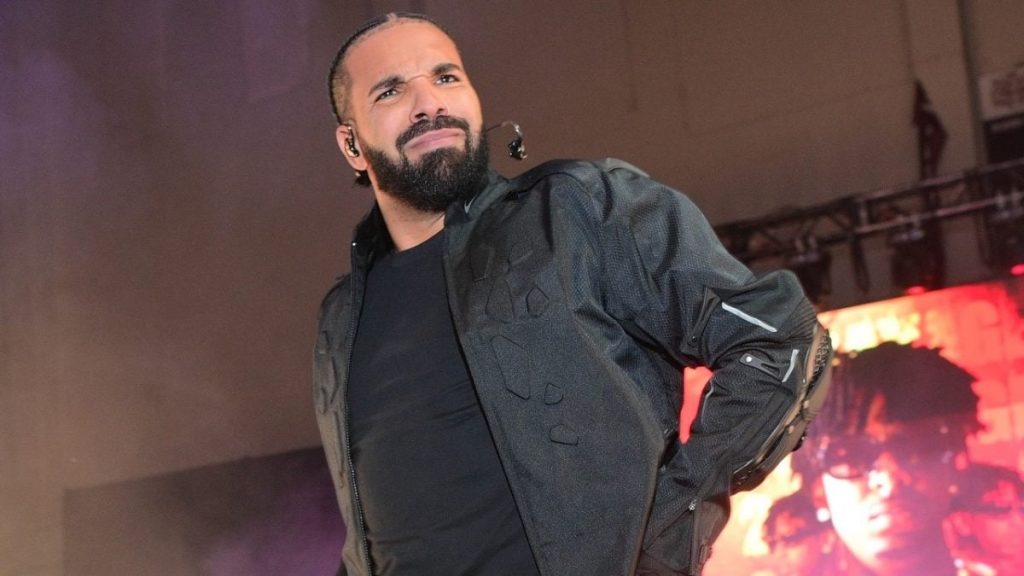 Drake has become the target of fans' jokes after sharing a "photo dump" via social media including one image of his bedtime routine.
One photo in particular, buried in amongst a 10-picture set shared to Drake's Instagram page, finds the Canadian superstar laying in bed with the covers pulled up so that only part of his face and his hair bonnet are visible.
The jokes soon followed, with fans clowning Drake for rocking the hair accessory more commonly worn by women.
Drake shares new photo on IG ??https://t.co/52WCdDsvQr pic.twitter.com/UeJ7IwIZXz

— HipHopDX (@HipHopDX) November 12, 2022
"Drake in his bonnet is such a mood bcs same sis," one Twitter user wrote. Another added: "Drake making bonnet prices go up not sitting right with me."
A third tweeted: "Drake in a bonnet with a perfectly arched eyebrow >>>"
Drake in his bonnet is such a mood bcs same sis

— shan? (@somuchemphasis) November 11, 2022
Drake making bonnet prices go up not sitting right with me

— SwagDad? (@SzSwagDad) November 11, 2022
Drake in a bonnet with a perfectly arched eyebrow >>>

— part-time bad Bish… (@coldie_goldie) November 11, 2022
Many of the reactions to Drake's new pic — which he shared alongside a variety of photos including promo shots for Her Loss, his new collaboration with 21 Savage — played on a viral TikTok meme that has found users mocking the rapper's delivery on the song "Rich Flex."
Not Drake with the reversible bonnet…. Do your thing 21 ??? pic.twitter.com/FI9CL4xQpq

— Yolanda G (@iamyolanda_g) November 11, 2022
Drake wearing a bonnet is further proof that he's in his baddie era and it needs to stop

— Sephuteloana (@GiftGsoulz) November 11, 2022
Twitch streamer Kai Cenet recently captured 21 Savage's reaction to the viral trend, which Drake very possibly could have been alluding to with this shot.
@brucey.deo 21 not rockin with it #KC3 #kaicenat #kaicenattv #kaicenatclips #dyk #fyp ♬ Rich Flex – Drake & 21 Savage
Drake really doubled down on the zesty vibes posting that pic in his bonnet ?

— Tony Stark (@abellsz_) November 11, 2022
Despite the "Rich Flex" jokes and the controversy surrounding some of Drake's lyrics, Her Loss has widely been well received. The album debuted in the top spot on this week's Billboard 200 chart thanks to some hefty sales figures.
According to HITS Daily Double, Her Loss bagged the top spot on the album chart with 411,000 equivalent units sold in its opening week.
Drake and 21's joint LP reportedly produced one of the biggest streaming weeks ever generating around 500 million. It's Drake's second time this year topping the Billboard 200, following his seventh studio album, Honestly, Nevermind, which arrived in June.
Drake had a lot to get off his chest on Her Loss, from subliminally dissing DRAM over their 2015 song spat to calling Serena Williams' husband Alexis Ohanian a "groupie"and seemingly shading "Munch" sensation Ice Spice.
Drizzy even threatened to reignite his fued with Kanye West by suggesting their 2021 reconciliation was nothing more than a favor to Rap-A-Lot Records CEO J. Prince.
However, one of the biggest talking points of the album was when Drake appeared to insinuate that Megan Thee Stallion lied about Tory Lanez shooting her.
While he initially avoided commenting on the controversy, 21 Savage has since taken some responsibility for the barrage of disses.
During an appearance on DJ Akademiks' Off The Record podcast, the Slaughter Gang rapper revealed was fully aware of Drizzy's lyrical darts while making the project — and only encouraged him to let the proverbial chopper fly.
"When he sent me the songs, I'm pointing out what I heard and I tell him like, 'Yeah, n-gga. Talk that shit,'" 21 said. "You know I'm gassing him. I'm behind him. Whatever he standing on, I'm standing on it, too. So say what you feel, n-gga, 'cause I'm riding."
While the blowback from the controversial lyrics has mainly been contained to social media posts, including responses from Megan Thee Stallion and DRAM, Her Loss has also landed Drake and 21 Savage in legal trouble.
The pair promoted the album release with a series of fake media hits including photos from a Tiny Desk performance that never happened and a fake cover of Vogue.
Earlier this week, Condé Nast, the magazine's parent company, sued the OVO hitmaker and Slaughter Gang honcho for $4 million in damages. The mock Vogue issue even included a doctored photo of Drake with long-running Vogue Editor-in-Chief Anna Wintour inside.
Condé Nast claims they repeatedly told reps for Drizzy and 21 Savage that they didn't have its permission to go produce and distribute the magazine.
On Wednesday (November 9), U.S. District Judge Jed Rakoff sided with Condé Nast during a hearing, with Rakoff ruling that the fake magazines were "deceiving the public" and "misleading consumers," Billboard reports.
Judge Rakoff issued a temporary restraining order for Drake and 21 to immediately stop distributing the fake magazines. According to the report, the judge's injunction suggests Condé Nast will eventually win the lawsuit altogether.
A judge will rule on the lawsuit itself on November 22 hearing when both sides will meet in court.