Drake, Kendrick Lamar, J. Cole & Nicki Minaj Immortalized With Mt. Rushmore Murals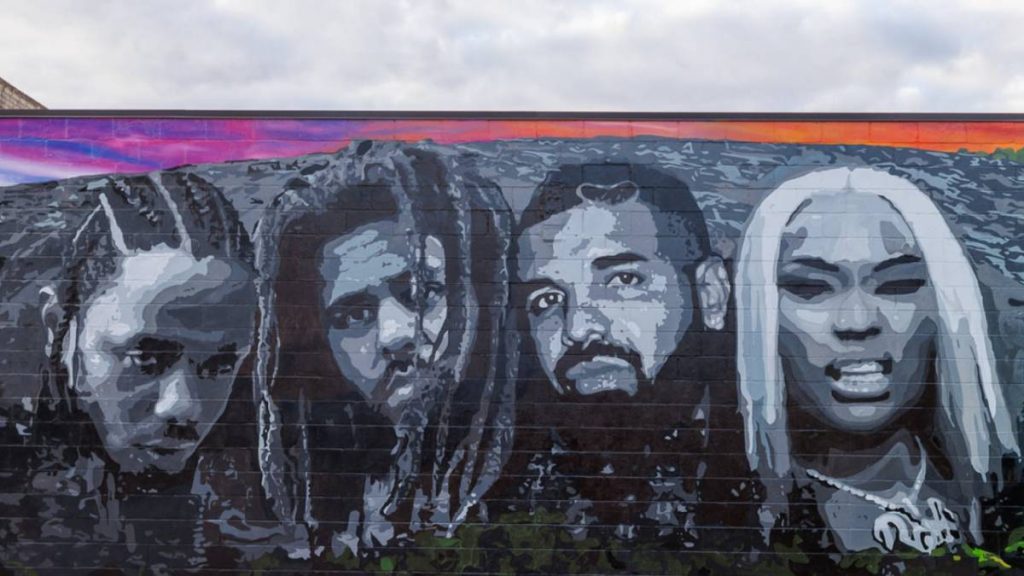 If there's one debate that gets rap fans talking, it's the topic of who belongs on the Mount Rushmore of Hip Hop.
A "Big Four" of Atlanta rappers featuring Jeezy, Future, Lil Baby and Rich Homie Quan left Outkast, T.I., Gucci Mane and 2 Chainz fans livid last year, while Snoop Dogg had a tough time narrowing down his "Mount Eastmore" picks.
When it comes to the greatest rappers of the 2010s, Spotify's RapCaviar attempted to settle that debate once and for all in June when they crowned Drake, Kendrick Lamar, J. Cole and Nicki Minaj the four best MCs of the decade.
Nicki nabbed the last spot in a fan vote, beating out Kanye West, Future and her Young Money boss Lil Wayne.
Now, RapCaviar has brought its 2010s Hip Hop Mount Rushmore to life by commissioning murals across North America featuring the faces of their "Big Four."
Each rapper's hometown has been blessed with its own unique mural designed by a different artist, with Anderson Bluu erecting one in Nicki's native New York City and Luke Pollard painting one in Drizzy's home city of Toronto.
Meanwhile, Jacob Rochester blessed K. Dot's backyard of L.A. and JEKS ONE handled duties in Raleigh, North Carolina, not far from Cole's hometown of Fayetteville.
"Decided to bring our 2010s Mt. Rapmore to the streets," RapCaviar announced on Thursday (January 13) while sharing images of all four murals on social media. "Pull up in NYC, Toronto, LA, or Raleigh to see these murals of some rap icons in real life."
View this post on Instagram
Stop by the mural nearest to you, post and tag us so we know it's real pic.twitter.com/yzy81Rl4gS

— RapCaviar (@RapCaviar) January 13, 2022
Three of RapCaviar's Mount Rushmore picks recently received high praise from a rap legend, with Nas comparing Drake, Kendrick Lamar and J. Cole to himself, JAY-Z and Biggie on his latest album Magic.
"Me, Jay and Frank White is like Cole, Drizzy and Kenny," the Queensbridge veteran declared on "Wu For the Children."
However, one artist who many felt was missing from RapCaviar's Mount Rushmore is Future. When the playlist platform put the fourth and final spot up for grabs, NBA star and rap connoisseur LeBron James cast his vote for the Atlanta hitmaker (much to Nicki Minaj's dismay).
Earlier this month, Joe Budden gave Future his flowers by arguing the Dirty Spite rapper belongs in the same conversation as Drake, Kendrick, Cole and Lil Wayne.
"We don't talk about Future enough on that list and he's there," the "Pump It Up" rapper said on The Joe Budden Podcast. "But he's been there and we don't discuss it. We just say Drake, Ye, Cole, Kendrick, Wayne — Hov is already G.O.A.T.ed — but Future is there."
As for the Mount Rushmore of rap's current generation, it's hard to argue that Future, Travis Scott, Migos and Young Thug haven't cemented their place atop the mountain.