Ella Mai Opens Up About Mary J. Blige Mentorship: 'There's Nobody Else I Want To Guide Me'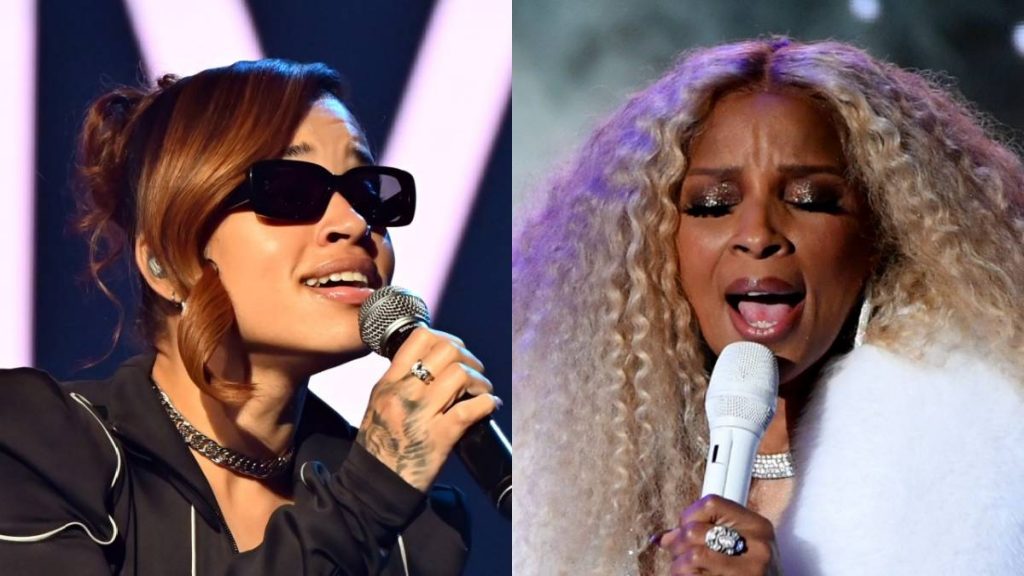 Exclusive – Ella Mai is one of the few R&B singers who can capture their audience with hypnotizing vocals that'll have people clenching their chests in emotion. The British star is a true student of '90s R&B as she grew up absorbing the sounds of TLC, Mariah Carey and more, helping her craft her own unique style.
However, one particular singer rises above the rest in Ella Mai's book: the Queen of Hip Hop Soul, Mary J. Blige. Ella Mai grew up listening to Blige thanks to her mother playing her music religiously in their household and it wasn't long before the Queen became a source of inspiration.
The R&B legend shows up at the end of two tracks on Ella's latest album, Heart On My Sleeve — "Not Another Love Song" and "Sink or Swim" — where she mentors her younger counterpart about navigating love. The album is Ella Mai's most honest and personal to date and as she explains to HipHopDX, there was no one better to help her tell her story.
"Mary is one of my all-time favorites," Ella Mai says. "She's been a part of my life since I was very, very young, so when I was putting the album together I wanted somebody else to tell this story for me as opposed to me telling it through the music. I wanted someone to guide me almost, and there's nobody else I want to guide me if I'm speaking about love."
Mary J. Blige's appearance on "Not Another Love Song" finds her advising Ella Mai that relationships will never be easy and not to be a victim of her past. On "Sink or Swim," she speaks on the aftermath of a breakup and the importance of not blaming oneself for the actions of others. As MJB says, "Guard that heart."
"When I think about that and my musical inspirations, it's Mary J. Blige," Ella adds. "She came into the studio where all we did was have a conversation and I played her some of the records, and she told me how much she loved it and how incredible it was."
It was an honor for Ella to hear Mary J. Blige speak about her music in such a positive light, but at the same time, she says it's a weird feeling since she's idolized the "Real Love" singer all her life. That's what makes the interactions between the two on Heart On My Sleeve unique.
Ella Mai is coming into her own as a singer, and it feels as if Mary J. Blige is grooming her to be the next one to carry the proverbial torch. The London native was Blige's special guest at her Strength of a Woman festival and summit in Atlanta in May. However, Ella hadn't considered putting that soulful style of R&B on her back — until now.
"I didn't think about her passing the torch to me, but now that you say that, it's an interesting concept," she admits. "I've had so many conversations with her and have learned a lot. When I played her the album, she explained how it seemed like I had been through some shit.
"She told me, 'Listen, it's life, and it is what it is.' We all know Mary's story because she's been very, very honest with everything. If there's one person I'll always take advice from, it's her. If the torch is being passed down, I don't want to put words out there, but if so I'm honored."
The follow-up to her 2018 self-titled debut, Heart On My Sleeve, marks another quality album to her growing discography. It took some time to get to this point, but she's evolved into a different type of artist, one that isn't afraid to let it all out and understands her position as one of the leading singers in this game.
Mary J.Blige didn't have to lend her voice to the album given her legendary status, but her cameos and conversations with Ella shows the genre is in good hands.
Check out the first part of HipHopDX's conversation with Ella Mai here and stream Heart On My Sleeve below.