Eminem, 50 Cent & Dr. Dre Reunite On 'Curtain Call 2' Collab 'Is This Love ('09)'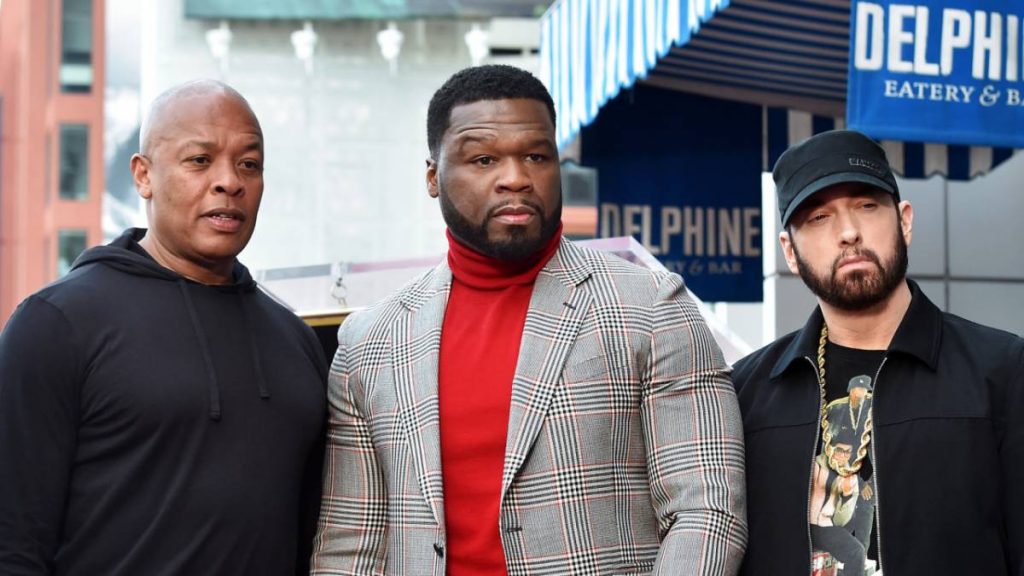 Eminem, 50 Cent and Dr. Dre have reunited on an unearthed song called "Is This Love ('09)," from Slim Shady's newly-released compilation album Curtain Call 2.
As the title suggests, the track was originally recorded in 2009 — the same year Eminem made his post-Encore comeback with Relapse — and finds the close-knit trio connecting for a playful song about romantic and sexual infatuation.
"Girl, I'm diggin' your whole MO/Give me a go, you're throwin' innuendo/Keep sendin' me smoke signals/Everything's movin', spinning in slow M-O-T-I-O-N," Em raps over bouncy production from Dr. Dre, Mark Batson and Trevor Lawrence Jr.
50 Cent, meanwhile, channels his inner Slim Shady with a rapid-fire, acronym-riddled verse full of shock value. Judging by at least one lyric, 50 recorded his rhymes much later than '09.
"I kill a bitch with a potato peeler for the skrilla/I'm finna skin a sinner, dick robbed like Bruce Jenner," he spits, referencing Caitlyn Jenner's 2015 gender transition.
"Is This Love ('09)" is one of three new songs on Curtain Call 2 alongside "From the D 2 the LBC" featuring Snoop Dogg and the CeeLo Green-assisted "The King and I," which also appears on the Elvis soundtrack.
Curtain Call 2's primary purpose, though, is serving as a highlight reel of Eminem's decorated catalog since the release of his first greatest hits album, Curtain Call: The Hits, in 2005.
Spanning studio albums, collaborative projects, movie soundtracks and guest appearances, the double-disc effort includes fan-favorites such as "Rap God," "Not Afraid" and "The Monster." Cameos from A-listers like Lil Wayne, Rihanna and Beyoncé are littered throughout.
If its predecessor is anything to go by, Curtain Call 2 is likely to make a big dent on the Billboard charts. Featuring early-career anthems like "My Name Is," "Stan" and "Lose Yourself," Curtain Call topped the Billboard 200 after selling 441,000 copies in just two days.
The album was certified diamond by the Recording Industry Association of America (RIAA) in March, signifying at least 10 million sales in the U.S. It's Eminem's third album to reach the milestone after 2000's The Marshall Mathers LP and 2002's The Eminem Show.
Accompanying the release of Curtain Call 2 is an arcade-themed merch bundle featuring T-shirts, CD box sets, cassette tapes and autographed orange vinyl. The collection is available on Eminem's website.
A Curtain Call 2 podcast hosted by Em's longtime manager, Paul Rosenberg, also debuted on his SiriusXM channel, Shade45, earlier this week. The seven-part series "gives a look inside the making of the albums from the last 15 years of Eminem's career," with appearances from the likes of Royce Da 5'9, Skylar Grey and the Detroit rap icon himself.
View this post on Instagram