Eminem 'Lose Yourself' Producer Details Journey From Food Stamps To Oscar Success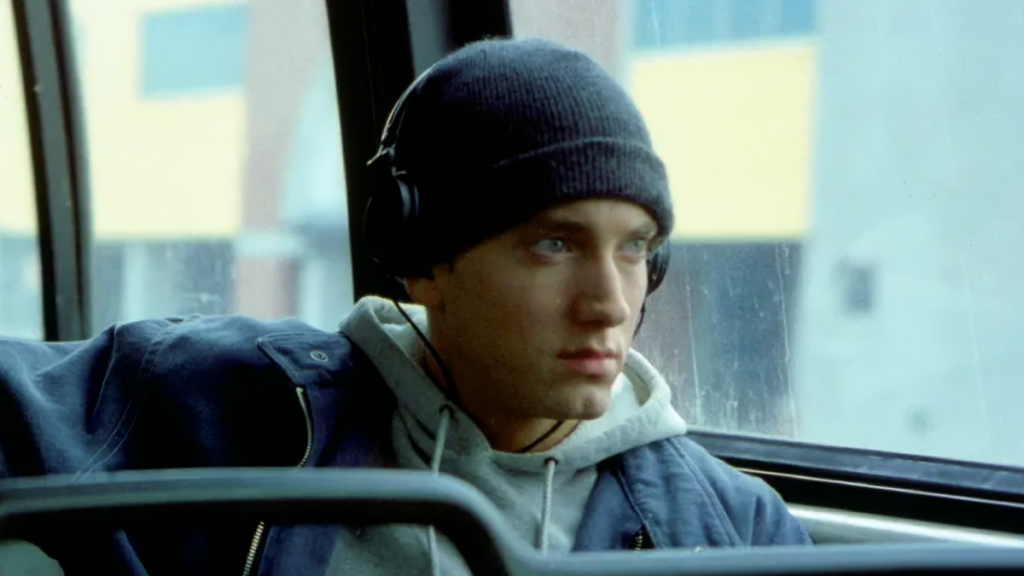 Jeff Bass, co-producer of Eminem's "Lose Yourself," has opened up about his remarkable journey from being on welfare to winning an Oscar.
During an appearance on the Connection is Magic podcast, the Detroit native — who is one-half of the production duo The Bass Brothers alongside his brother Mark — spoke in depth about his career, including his hugely successful relationship with Eminem.
Years before scoring some of Slim Shady's biggest hits, though, Jeff was a new father struggling to survive on food stamps and government cheese.
"I was on food stamps and government cheese at the very beginning. For me, it got really rough," he said. "At that time — '86, maybe, '87, '88 — I had a kid, he was a baby. And then you have to try and figure out — you want more in life for your family, right?
"I wasn't born with a silver spoon in my mouth so I had to figure out how I'm going to do this on my own."
After discovering a young Marshall Mathers through a local radio station open mic in the mid '90s, Jeff and his brother Mark began working with the rap prodigy and signed him to their F.B.T. Productions company.
Together, the trio recorded the bulk of early projects like Infinite and the Slim Shady EP, the latter of which piqued the interest of Interscope Records mogul Jimmy Iovine and Dr. Dre.
While Eminem become an immediate mainstream sensation thanks to the Dr. Dre-produced "My Name Is," The Bass Brothers remained one of his closest collaborators, producing hits like "Without Me," "Cleanin' Out My Closet" and "Sing for the Moment."
In 2002, their chemistry culminated in "Lose Yourself," taken from the soundtrack to Eminem's semi-biographical battle rap movie 8 Mile, which celebrates its 20th anniversary on Tuesday (November 8).
"It started with a guitar line that I came up with and I played it against the drum beat that DJ Head came up with on the MPC. Then I added a bassline and the whole groove, this never leaves the song," Bass explained. "It felt so good. We didn't know what it was — all we knew is that, 'Wow, that really feels good.'
"It wasn't until getting the script for 8 Mile that it came [together perfectly] … I couldn't tell you how many athletes — or people around the world — use it as a motivation to go work out or, 'I'm gonna go get that job.'"
"Lose Yourself" not only earned Eminem his first No. 1 on the Billboard Hot 100, but it became the first rap song to win an Oscar, taking home the award for Best Original Song in 2003.
"I didn't go to the Oscars that year. I chose not to go; my youngest was just born," Jeff Bass recalled. "I was in my home watching it on TV. When I heard that [Barbra Streisand] was presenting it, I had the chills! My whole thing was: 'Is she going to get my name right?' It's like the fish!
"When I'm sitting at home and I saw her open that envelope and she said [my name] and pronounced it right, that was it right there."
"Lose Yourself" also won two Grammy Awards (Best Rap Song, Best Male Rap Solo Performance) and remains one of Eminem's most enduring songs, soaring to 13x platinum status this past March.
"It's surreal," Bass said of the anthem's impact. "You go to a Michigan football game; what happens before the game starts? [Hums intro to 'Lose Yourself']. You got 100,000 fans screaming because 'Lose Yourself' is playing.
"You know what that feeling is every year to have that? Just knowing that, 'Wow, you gave the world something totally relatable.' That's a legacy right there."
While Jeff Bass' journey hasn't been entirely smooth, with drug addiction threatening to derail his life in the late '00s, his unlikely ascent from government welfare to multi-platinum success is a testament to never giving up on one's dreams — no matter how late in life it may be.
"Never give up on whatever your dream is," he insisted. "You want to be a lawyer at 50? Go back to school and become a lawyer. It's never too late to do it … I didn't get my real break until I was 38 years old.
"For all the people out there that feel like they have to give up at some point because you gotta go make a living, don't give up. Keep it going, try to find some balance between making a living to pay for your food, but don't forget what you're shooting for."