Eminem & Mr. Porter Go Back In Time To Remake Classic Rap Cover Art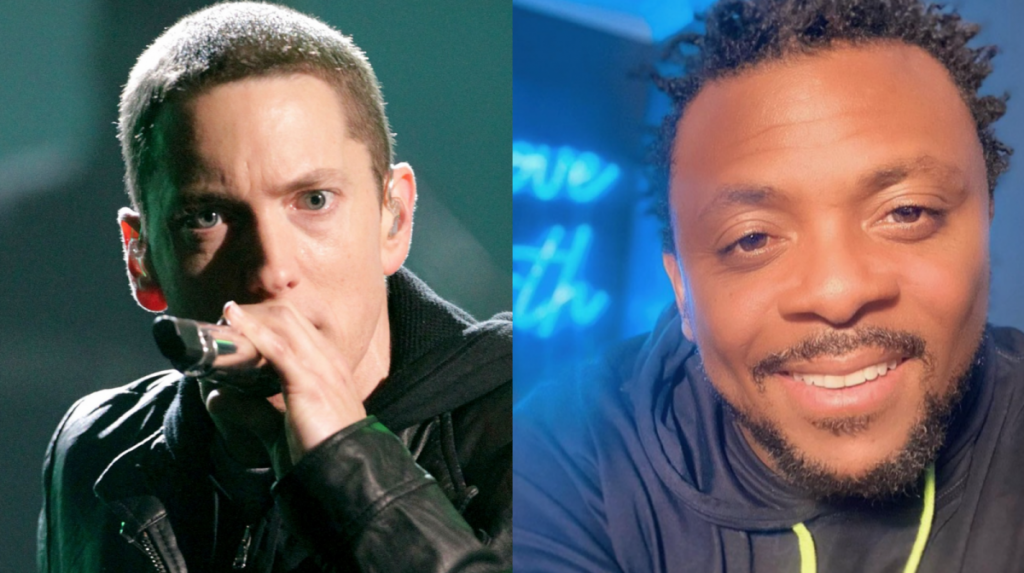 Eminem has never been one to keep his rap fandom a secret, and in his latest social media post the Detroit legend has recreated the cover art of a classic Hip Hop album.
On Friday (September 16), Slim Shady took to Twitter to share a photograph of himself with longtime friend and collaborator Mr. Porter posing for a reimagining of EPMD's 1989 LP Unfinished Business.
Decked out in the same bucket hats and sweatsuits worn by Erick Sermon and Parrish Smith on the cover of the original Sleeping Bag Records release, Em and Mr. Porter can be seen leant against a pair of Mercedes — just like EPMD in '89.
"With me & @mRpOrTeR7 it's always personal never business! #EmDp @mercedesbenzusa (jus havin fun this ain't a new project ain't an ad)," Em captioned the post which plays on the pair's initials, flipping EPMD (Erick & Parish Making Dollars) to EMDP (Eminem & Denaun Porter).
With me & @mRpOrTeR7 it's always personal never business! #EmDp @mercedesbenzusa (jus havin fun this ain't a new project ain't an ad) pic.twitter.com/grfSozgmzi

— Marshall Mathers (@Eminem) September 16, 2022
It's not clear at this point exactly what prompted the pair to reshoot the cover of EPMD's second album. HipHopDX reached out to Porter for comment but he said he wanted to stay tight-lipped about the post.
This isn't the first time Eminem has paid homage to EPMD publicly. In August last year, the "Lose Yourself" rapper appeared on Nas' "EPMD 2" alongside the iconic New York duo. The track features on the Queensbridge rapper's King's Disease II album.
Speaking to HipHopDX the week the album came out, Parish Smith talked about how the collaboration came to fruition and how the first "EPMD" track on King's Disease essentially led to the remix.
"This was Hip Hop doing a full 360 and heading back to the golden era," Smith told DX. "With Nas, the connection with my grandfather being from Queens and Nas being from Queens, I used to be — and still am — a big fan of Main Source, the original foundation where Nas actually started.
"When Nas paid homage to EPMD on the first 'EPMD,' it was only right for Erick and I to get on the track and show love as well. Once Nas dropped the song, it got so big that it created a vibe that cut through everything, like, 'Yeah, you know, I can hear EPMD doing the song with Nas.' Then through the communication between both camps, we were able to get it done."
As Smith explained, he and Sermon hit the studio, turned on the mics and "caught that wave that's been missing."
"Before you know it, it was like 'EPMD's back in business/I visualize what it is and what it isn't,'" he raps on reference to the track. "So it was like, 'Yo, to the bat phone, to the bat phone [laughs].'"
But Smith admits they didn't know Eminem was going to be on the song until a week before it dropped, adding they kept it "tight-lipped." Overall, he thought the song brought the best out of all four MCs.
"When you get on a track like that with artists like EPMD and Nas, it goes back to like an MC's favorite MC — you step it up," he explained. "I would say in comparison to K-Solo on 'Knick Knack Patty Wack' on EPMD's Unfinished Business. We came in regular mode, we was doing what we do. At the end, K-Solo came in representing the true essence of what Hip Hop is all about.
"He not only rocked his regular bars like he was supposed to, he kept going when the beat went off and that's what made that song so dope. It was more about expression, how you felt and getting your point across. Hip Hop hasn't been in this mode in a long time."
EPMD's Unfinished Business was the second album released by EPMD. Released on July 25, 1989, the album was certified Gold by the RIAA on October 16, 1989. It was one of three albums that Priority/EMI Records acquired from Sleeping Bag Records when it ceased operations in 1991.