Eminem Recalls 50 Cent 'Covering' For Him During Drug Addiction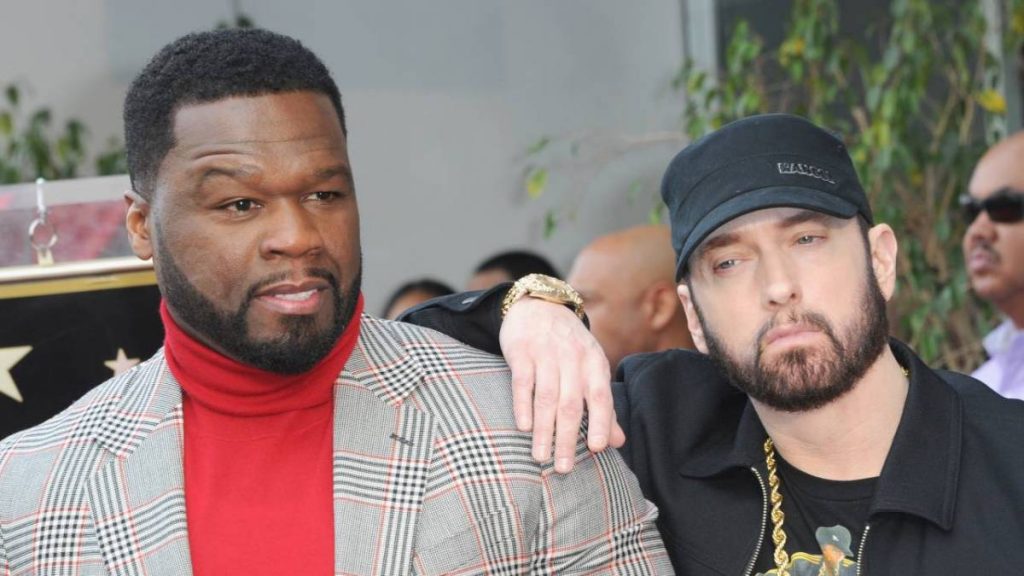 Eminem has shed more more light on the dark days of his past drug addiction, revealing his habit was so bad that 50 Cent once had to "cover" for him during a television interview.
In a self-penned cover story for XXL magazine that dropped on Wednesday (September 14), the Detroit rap icon recalled appearing on BET's 106 & Park alongside 50 and the rest of G-Unit in 2006.
However, Em had that many drugs in his system he struggled to comprehend the questions being thrown at him by co-hosts Terrence J and Rocsi Diaz, and so 50 had to step in.
"I remember things started getting really, really bad when me, 50 and G-Unit did BET's 106 & Park," he wrote. "We performed 'You Don't Know' on the show and then we did an interview afterward. That's when the wheels started coming off.
"One of the hosts was talking to me and I could not understand a word she was saying. 50 had to cover for me and answer every question."
View this post on Instagram
In addition to a potent cocktail of Vicodin, Valium and alcohol, Eminem also began taking the sleep medication Ambien around that time, further decreasing his ability to function.
"I would take a little to perform, which you would think doesn't make sense, but Ambien is a mind eraser. So, if you don't go to sleep on it, you get in this weird comatose state," he added. "I see what you're saying, and I hear what you're saying, but I don't comprehend.
"If you watch back to that interview now, you can notice it. That's when everyone around me knew, 'He's fucked up. Something's wrong with him.'"
Elsewhere in his XXL story, Eminem explained how his drug addiction — which began during the making of his 1999 debut album The Slim Shady LP — "skyrocketed" following the death of his close friend and collaborator Proof in 2005.
"Then the thing happened with Proof and my addiction went through the fuckin' roof," he admitted. "I remember just after Proof died, I was in my house by myself, and I was just laying in bed and I couldn't move and I just kept staring at the ceiling fan. And I just kept taking more pills.
"I literally couldn't walk for two days when that happened and eventually my drug use fuckin' skyrocketed. I had fuckin' 10 drug dealers at one time that I'm getting my shit from. Seventy-five to 80 Valiums a night, which is a lot. I don't know how the fuck I'm still here. I was numbing myself."
He added: "I remember a few months after Proof had passed, I was about to use the bathroom, and all I remember was I just fell over. The next thing I remember was waking up with fucking tubes in me and shit, and I couldn't talk. I couldn't do anything. I didn't understand where I was and what the fuck happened."
Slim Shady's drug habit reached a breaking point in December 2007 when he was hospitalized after a methadone overdose. During a recent appearance on his longtime manager Paul Rosenberg's Paul Pod: Curtain Call 2 podcast, Eminem recalled how Rosenberg feared the overdose might have left him with permanent brain damage.
"It took a long time for my brain to start working again," Em said, to which Rosenberg replied: "I mean, you literally were coming off of an overdose and they had to sort of stabilize you with a few medications. And some of them took you a minute to adjust to.
"So you're learning to rap again, almost literally, right? Because it's the first time probably you were creating without having substances in your body in however many years, right?"
Eminem verified Rosenberg's comments, before bringing up his manager's worries after he sent him music for the first time since his overdose.
"Didn't you ask the doctors — when I first started rapping again and sent it to you — didn't you say like, 'I just wanna make sure he doesn't have brain damage,'" he said, to which Rosenberg replied: "I thought you might have some permanent problems. Yeah, I was concerned, for sure."