Fulton County DA Defends Using Rap Lyrics In Court Amid Fresh RICO Gang Indictment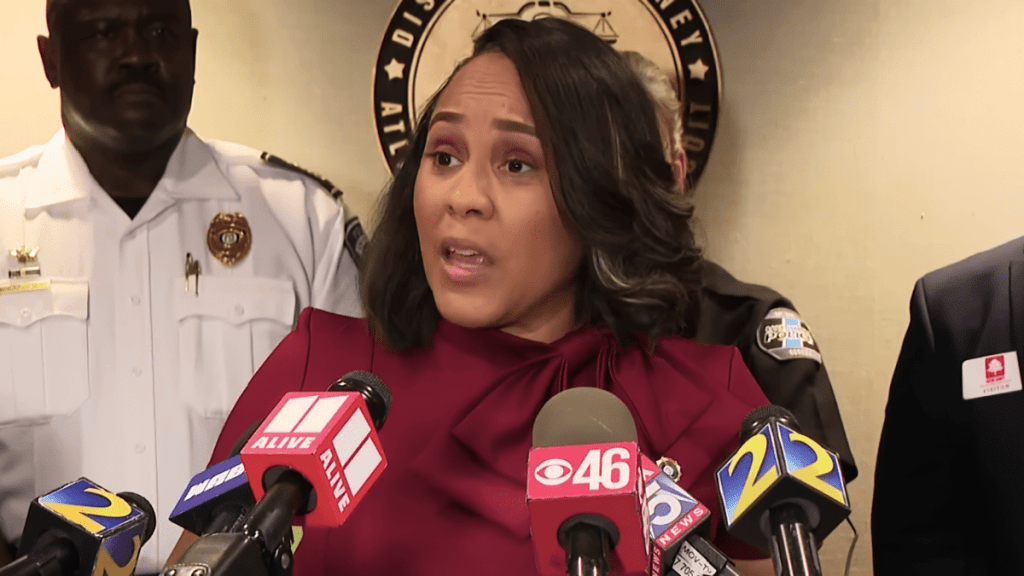 Fulton County, GA – Fulton County District Attorney Fani Willis has defended the use of rap lyrics as criminal evidence amid a fresh gang indictment in the same Georgia county where Young Thug and Gunna sit behind bars.
On Monday (August 29), Willis announced Racketeer Influenced and Corrupt Organizations (RICO) charges against 26 suspected members of Drug Rich Gang, who prosecutors believe are behind a string of high-profile home invasions, among other violent crimes, in the Metro Atlanta area.
According to the 220-count indictment, the gang targeted celebrities such as Mariah Carey, Atlanta Falcons star Calvin Ridley and Future's baby mother, Brittni Mealy. They allegedly monitored their victims' social media accounts to scope out items and plan heists.
Investigators used rap lyrics, music videos and social media posts to build the RICO case and tie the alleged gang members to the indictment. Nearly 20 defendants have been taken into custody, with at least five still at large.
Speaking at a press conference on Monday, D.A. Willis defended targeting rap lyrics and warned other rappers against "confessing" to crimes on wax.
"I think if you decide to admit your crimes over a beat, I'm gonna use it," she said. "You do not get to commit crimes in my county and then decide to brag on it, which you do that for a form of intimidation and to further the gang, and not be held responsible.
"Just one of the lyrics used in this indictment is: 'Me and my crew striking out, striking in all black / Send me the drop, we'll kick in the house / If we steal a car, we're gonna take off the tags.' Well, they're kicking in doors, committing home invasions and now I'm using those lyrics that they're admitting to doing that."
She added: "I'm going to continue to do that, people can continue to be angry about it. I have some legal advice: don't confess to crimes on rap lyrics if you do not want them used — or at least get out of my county."
Willis' remarks come just weeks after the Restoring Artistic Protection Act (RAP Act), a proposed bill limiting the use of lyrics in court, was introduced in the U.S. House of Representatives.
Earlier in August, a similar bill was passed by both the California State Assembly and State Senate. The legislation is currently awaiting the approval of Governor Gavin Newsom, who is expected to sign it into law.
While rap lyrics being used in court is nothing new, the debate has intensified in recent months following Young Thug and Gunna's arrests in May as part of a sweeping RICO indictment against their Young Slime Life (YSL) collective, which was filed in Fulton County.
Prosecutors have accused the crew of being a "criminal street gang" responsible for a series of violent crimes in Atlanta, with various lyrics from Thugga and Gunna being used as evidence behind their racketeering charges.
Both rappers remain behind bars after repeatedly being denied bond. A trial has been set for January 2023.