J. Cole's Jumbotron Reaction At Miami Heat Game Goes Viral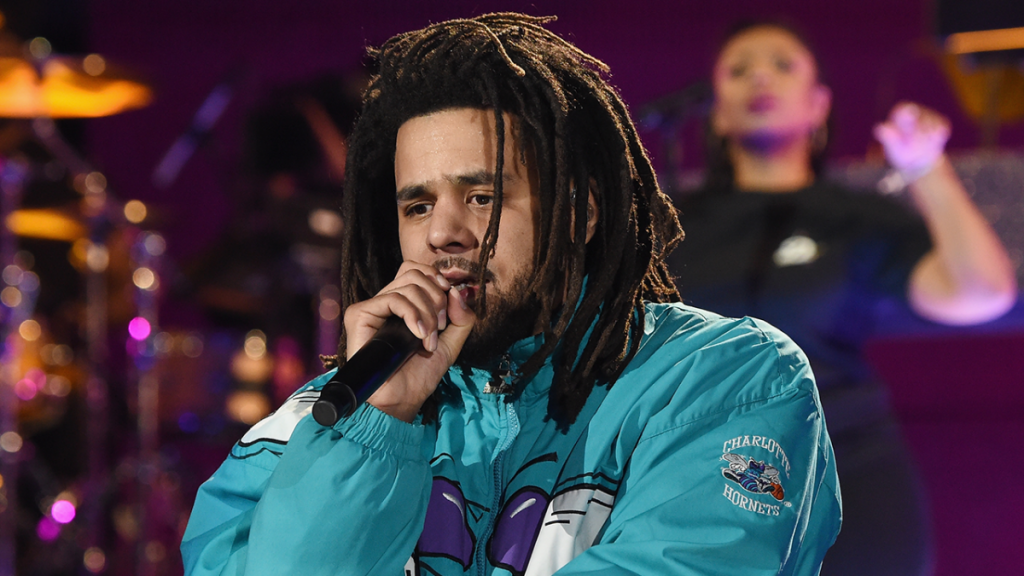 Miami, FL –
J. Cole made a surprise appearance at the FTX Arena in Miami, Florida to take in his beloved Charlotte Hornets' road game against the Miami Heat on Thursday (November 10).
While sat courtside next to his longtime manager Ibrahim "Ib" Hamad, the Dreamville boss didn't appear to be enjoying himself all that much, though, after being highlighted on the arena's jumbotron.
As he looked up and saw himself projected onto the overhead screens, the fame-shy rapper could be seen squirming in his seat and muttering something under his breath.
Whether he was uncomfortable having his cover blown on the big screen or simply dismayed at the Hornets' first-half performance only Cole knows.
J. Cole sitting courtside at Hornets vs. Heat 🏀https://t.co/FoC4kydEIQ pic.twitter.com/vXGEzJwhdv

— HipHopDX (@HipHopDX) November 11, 2022
Even though he's a Hornets supporter, the Miami Heat made J. Cole feel right at home as they gifted him a personalized City Edition jersey with Cole #No. 15 on the back.
"We had hip-hop royalty in the house tonight," the team wrote on Twitter. "Cole World!"
We had hip-hop royalty in the house tonight. Cole [email protected] // @ONESIR pic.twitter.com/vwpXVpXQ9C

— Miami HEAT (@MiamiHEAT) November 11, 2022
Cole and Hamad were treated to a highly competitive matchup inside the FTX Arena, which the Heat eeked out by a score of 117-112 in overtime. Jimmy Butler led the Heat with 35 points as Cole's home-state Hornets fell to 3-10 on the season.
While he's close with a number of Hornets players, the Off-Season rapper played an integral role in Caleb Martin joining the Miami Heat.
After being cut by the Hornets last season, Martin worked out at J. Cole's gym to stay ready. Cole was so impressed by Caleb's game that he called Miami assistant Caron Butler to give him a workout, which led to Martin earning a roster spot.
The 27-year-old parlayed the opportunity into a lucrative contract after signing a three-year, $20 million deal with the Heat prior to the 2022-23 season.
J. Cole has hoop dreams of his own and had previous professional stints playing in Canada and Africa.
The 6-foot-2 rhymer was also recently unveiled as the cover star of NBA 2K23's DREAMER Edition — becoming the first Hip Hop artist to cover the basketball video game franchise — and is now available as a playable character in the game alongside Jack Harlow.